Rivals150 PF Amanze Ngumezi set to make first official visit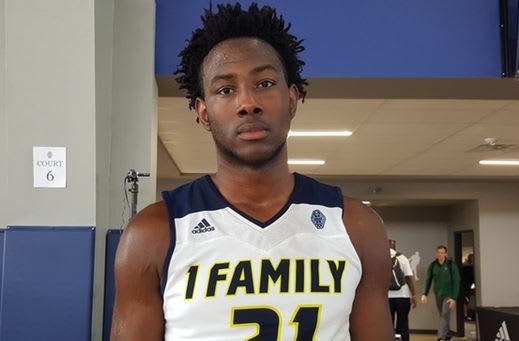 Making his way into the recently updated 2018 Rivals150, Amanze Ngumezi was one of the top breakout performers from July and has seen his college stock soar. Down to a final seven, Ngumezi has set official visits to four programs and will hit the road for the first time this weekend when he visits Georgia.
His final seven consist of Georgia, Tennessee, Virginia Tech, Temple, Clemson, Wichita State and UAB.
He is visiting Tennessee on Sept. 10, Wichita State on Sept. 22 and UAB on Oct. 11.

IN HIS OWN WORDS
Ngumezi previewed each visit that he has set up.
Georgia: "I like the relationship that coach Jones (Hayes) has established with me. He has made sure to stay in contact with me every day. He texts me good morning every day and the relationship with us, it is better than any other coach that is recruiting me right now. He just tells me what classes I have to step up in and in regards to recruiting me, he has done a great job as far as that all goes.
"I just like the way that they play and me being from Georgia, it is every kid's dream to get an offer from them."
Wichita State: "Coach (Donnie) Jones tells me how I fit in with them since I play with a chip on my shoulder; that is the type of players that they look for. He talks about his experience in the NBA and how he could help get me to that next level and what I should do. I like them a lot as far as their coaching style and the way that they play."
Tennessee: "They sent me a list of the players that the staff had play in the NBA. They tell me the similarities that I have to those guys with Kevin Durant being the biggest one. How his versatility got him to the league and how I am also a very versatile player. Coach (Rick) Barnes has an ability to coach versatile players which is a big thing for me and for them."
UAB: "They were the first school to offer me so that was really big for me. They saw that I had the talent to play Division I basketball so that is one thing I will look at. Loyalty is a big thing with me so since they were the first school to offer me, I look at that in a very big way. Their best player is from Savannah, Georgia, Chris Cokley, so with this being his senior year, they are looking for someone to take his spot and they think that I can do that right away."
WHAT'S NEXT?
Beginning his official visit tour this weekend to Georgia, Ngumezi discussed his timetable for a potential commitment.
"These four visits I have planned, I am pretty sure I am going to like what I see," he said. "If not, I will take another visit but as of right now, I feel confident with each of the ones I have set up and will decide whenever I feel it is right."
RIVALS' REACTION
Ngumezi is a major issue in the frontcourt thanks to his college-ready frame and size, to go along with an evolving skillset and explosiveness around the basket.
Look for a fall decision and while UAB, Wichita State and Tennessee have each set up visit dates, Georgia should be seen as the leader heading into September.