Rivals150 junior taking steps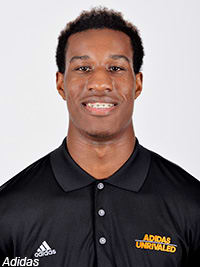 An explosive 6-foot-7 combo forward at Grand Prairie (Texas) South Grand Prairie, McGriff is looking to be a leader and the focal point of his team this season.
"It means a lot to have a big role this year," said McGriff. "We lost a lot of players from last year and it's my turn to lead this year. I want it to be my team."
To go along with his athleticism, McGriff has good length and great instincts. He is at his best attacking in transition, cleaning up on the offensive glass and causing havoc with his ability to extend defensive pressure. But, he wants to do more.
"I rebound, clean up on missed shots and get to the basket," McGriff told Rivals.com. "I'm working on my shooting, taking people off the dribble and my mid range jump shot. A lot of people are recruiting me as that three-four combo type player."
For now, McGriff says that expanding his game takes precedence over figuring out which programs are his favorites. But, he's not entirely shut off from the recruiting process and certainly wants to explore any programs that have interest in his game.
"I want to show that I can play the wing better and make my shots from outside," said McGriff. "Right now I'm an open book, any school that is willing to recruit me I'm willing to take them in."

[rl]