Rivals150 for 2017: New head of the class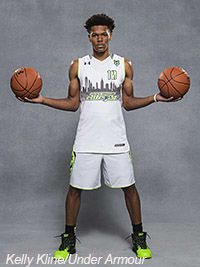 As far as classes go, 2017 is still in the early stages of development. Between now and when the class gets a final ranking in April of 2017, the pool of potentially rankable prospects is going to grow significantly.
As the class ranking moves from a top 100 to a true Rivals150, though, it was the right time to make some changes and that's certainly happened with power forward Wendell Carter ascending to the top of the class.
Here are 10 things to know about the 2017 Rivals150:
1. New No. 1
Ever since people began ranking the class of 2017, 7-footer
DeAndre Ayton
has been nearly universally hailed as the top player/prospect in the class. Make no mistake, the native of the Bahamas, who plays at San Diego (Calif.) Balboa City, still has considerable potential. However, the question that kept coming up was this: Has Ayton been playing like the No. 1 player in the country?
And if he hasn't, then who has?
Our answer to the second part is
Wendell Carter
, which should tell you what the answer to the first question is. At 6-foot-10 and 245 pounds the product of Atlanta (Ga.) Pace has outstanding size, is a fine athlete and is a skilled offensive player, who is equally strong on the defensive end. His combination of size and two-way play give him the edge for now.
The race for No. 1 in 2017 is one that is tight between four players and they all made their case. At No. 2, point guard
Trevon Duval
is clearly the top perimeter player in the class and is just as good, or better, as any of the highly celebrated 2016 point guard class. Checking in at No. 3 is
Michael Porter
, an incredibly gifted offensive player with the ability to shoot and handle the ball while pushing 6-foot-10. Finally, there's Ayton, who at No. 4 could prove to be quite underrated and has the tools to take the No. 1 spot back if he starts to dominate around the rim on both ends of the floor as he has shown flashes of being able to do in the past.
2. Second tier
While that group of Carter, Duval, Porter and Ayton has some separation from the pack, power forwards
Mohamed Bamba
and
Billy Preston
, Nos. 5 and 6 respectively, aren't far off the pace. Skinny and long-limbed, Bamba is a blend of Jermaine O'Neal and Marcus Camby as 17-year-olds. He has all the physical tools, he's just lacking strength and confidence at times.
Preston has strength, skill and versatility. He crashes the glass and already looks like a college player with his 6-foot-9, 230 pound-frame. Preston has improved considerably in the last year and if he continues to produce as he has, those ahead of him had better watch out because he is on the verge of breaking down the next wall.
3. The fives
There are 24 five-star prospects and four of them are newly minted. The highest-ranked of the new five-stars is No. 15
Ikey Obiagu
. The best shot blocker in the class - and perhaps in all of high school basketball - moves up from No. 24 overall to No. 15. The next highest of the new new five-stars is athletic forward
Kevin Knox
(No. 16), who currently plays both the power and small forward spots but projects as a big three with plus athleticism and skill. Also earning fifth stars are point guard
Jaylen Hands
(No. 23) and shooting guard
M.J. Walker
(No. 24).
4. The real McCoy
The biggest mover inside of the five-star realm was near 7-footer
Brandon McCoy
. The San Diego (Calif.) Morse product moves from No. 20 to No. 9 overall. At the moment, this could be a roll of the dice but McCoy has looked better each time we've seen him. He's probably the most aggressive of any big man in looking for his offense and with his size, athleticism and confidence we feel he's about to make a major breakthrough.
5. Centers of attention
Where the class of 2016 has been heralded for the strength and number of elite point guards, the class of 2017 looks like it is going to be heavy with centers. Of the top 20, seven of them are centers 6-foot-10 or taller, and they all show signs of getting much better as time progresses.
6. Heck of an entrance
Arkansas
-bound big man
Daniel Gafford
makes the highest-ranked debut in the 2017 Rivals150 entering at No. 32. Playmaking wing
Naji Marshall
(No. 54), point guard
Da'monte Williams
(No. 56) and ultra athletic guard
Nick Weatherspoon
(No. 60) are the others who make impressive debuts. Standing 6-foot-10, Gafford didn't start playing basketball until his freshman season and was literally plucked out of the band by his high school coach. He has all of the physical gifts that you want in a big man, whether he can climb even higher or retain his already lofty status is going to depend a lot on his learning curve.
7. Missing the point
The lack of elite talent at the point guard position is concerning.
Trevon Duval
is the only point guard in 2017 who has truly established himself as a truly elite prospect. There is a handful pushing elite status, though. No. 8 overall
Troy Brown Jr
is pegged as a point guard by some, however Rivals views him as more of an elite utility guard who can play several positions. He's somebody we would compare more to an
Evan Turner
than Penny Hardaway in terms of style.
North Carolina
commitment
Jalek Felton
(No. 22) has elite size and athleticism but is quite inconsistent.
Jaylen Hands
(No. 23) has the quickness and athleticism to be elite but has to add a lot of strength and the potential allows him, like Felton, to slide in as five-star prospects.
Trae Young
(No. 26),
Matt Coleman
(No. 29) and
Paul Scruggs
(No. 30) each has a chance to make the leap to the elite level as well.
8. Jump, jump
The biggest jump inside of the rankings is made by Georgia point guard
Davion Mitchell
. The hard-playing 6-footer made an impressive 40-spot jump from No. 98 to No. 58. Next in line for biggest jump was high-scoring shooting guard
Devontae Shuler
. The South Carolina product climbed 31 spots from No. 69 to No. 38. Others making impressive double-digit moves up include wing
Charles O'Bannon
(No. 57 to No. 44), combo forward
Chuma Okeke
(No. 82 to No. 69) and big man
Garrison Brooks
(No. 99 to No. 89).
9. Drama remains
Not a single five-star prospect from the class of 2017 has made his college commitment. Previously discussed,
Jalek Felton
(No. 22) is ticketed for North Carolina and is the highest-ranked player to have made his college decision. In total, only six other players in the 2017 Rivals150 have given early commitments.
10. Going coast to coast
Nearly the entire map is represented in the 2017 Rivals150. Thirty-five states plus the District of Columbia placed players on the list. Going strictly by where each player plays his high school ball, Georgia has the most with 12 ranked players. Florida and California each place 11 on the list while Texas (nine), Virginia (nine) and Illinois (eight) are on their heels.

Click
Here
to view this Link.