Rivals Roundtable: Live eval periods, fast risers and draft decisions
This week in the Rivals Roundtable, analysts Eric Bossi, Corey Evans and Dan McDonald discuss what the impact of no evaluation periods could be. Also, rising seniors to watch from outside of the Rivals150 and players who could help their draft prospects with another year of school.
1. With this week's decision on live evaluation periods in August and September put off, will they happen and how big of an impact will it be if nothing gets scheduled?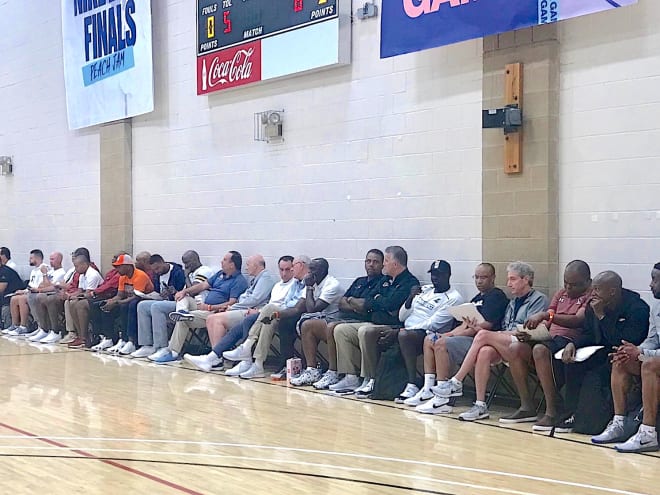 Bossi: No, I don't think we will see live evaluation periods at any point this summer or during the early fall. I just don't think the NCAA has the answers it wants regarding COVID-19 and from the coaches that I've spoken with, they don't want to be out either.
Obviously, this isn't ideal. Especially for players in the class of 2021 looking to either earn offers or elevate their recruitment. While some may not get the offers they want, I do think the majority will walk out of this ok because college coaches are doing the most research I can remember in some time. Some guys will slip through the cracks and low- and mid-majors may end up with more steals than in a normal year, but the scholarships will be there for worthy players.
Evans: I don't, but I don't think anyone has a firm grasp on what will be permissible later this summer and fall. If such live periods were going to be allowed, that the ruling would have been made this past week. Waiting another few weeks seems to now be delaying the inevitable and that there will be no summer evaluation periods.
The impact won't be felt until years down the line. I guess virtually evaluating prospects can do some of the work, but physically being front and center for a recruit can give the coach and a program a better feel for who they are watching. We are going to see missed evaluations, which will lead to poor fits and some that should be playing at different levels.
McDonald: I thought it seemed like a done deal earlier this week, but now I'm skeptical any live periods will happen. Between the fact there are states that still have stronger restrictions in place and many coaches being older and/or in a higher risk group for health reasons, it's a complicated deal.

I do like that the proposal from the NABC to only allow two coaches from each staff to be out instead of all four.

If coaches don't have live periods, it's a pretty big deal in my opinion. The 2021 class becomes really tough to recruit when a lot of coaches will have to sign kids in November that they have never seen play in person. It could lead to a lot of poor evaluations.
*****
2. What 2021 player is racking up offers that you wish you could have seen this summer?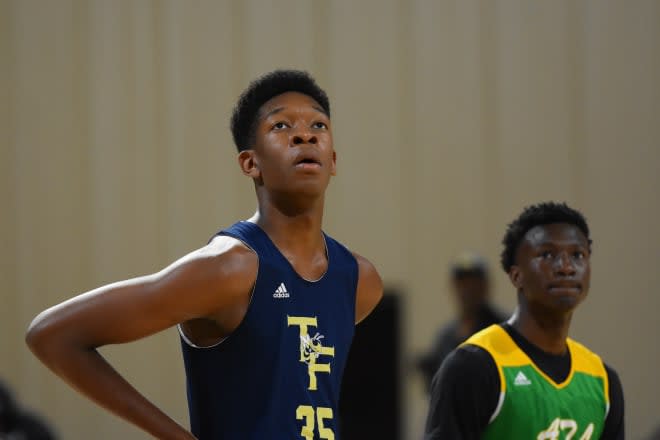 Bossi: One of the most intense debates during our rankings updates was what to do with Wisconsin power forward James Graham. At 6-foot-8 he appears to have some inside/out game and fits the mold of what teams are looking for in a four man who can stretch the floor on offense and help control the glass on defense. But, we've not been able to evaluate him in person so we decided to hold off on a ranking until we could get a live viewing. That being said, programs such as Arizona State, Auburn, Butler, Cincinnati, Florida State, Georgetown, Georgia, Iowa, Marquette, Maryland, Michigan State, Missouri, Oregon, Vanderbilt, Virginia Tech, Wake Forest and Xavier have all offered in the six weeks, and made him one of the most heavily recruited.

Evans: Angelo Brizzi has been a heavily dissected and offered prospect this spring. Prior to the quarantine, his recruitment was littered with Atlantic 10, Ivy and Patriot League programs. Now, it is a national, high-major affair that includes Arizona, Georgetown, Michigan, Northwestern, Villanova and Virginia Tech on his offer list. Brizzi seems open to all newcomers. He is someone that might be better at some respective systems compared to others but is a good-sized guard that can play on and off the ball, brings toughness to the backcourt and can make shots which is why his recruitment has soared in recent months.
McDonald: Ryan Mutombo has added several offers from high-major programs since the shutdown in March with Arizona being the most recent earlier this week. I was really looking forward to seeing how he fared this travel season because he has come such a long way in the past year. I love that he views himself as a center, which is rare these days because all centers want to be power forwards just like all power forwards want to be small forwards. He's also continued to work to where he can make mid-range jumpers and hits most of his free throws. He's put on more than 35 pounds in the last year. On the recruiting front, his list includes Clemson, Florida, Florida State, Georgetown, Georgia, Georgia Tech, Stanford, Tennessee, Texas A&M, Wake Forest and Vanderbilt.
*****
3. Name an underclassman who looks like he is staying in the draft that you think should return to school.
Bossi: Tyrell Terry of Stanford. As a freshman, the former four-star was ahead of schedule and was able to be an immediate impact player in the Pac-12. I like his skill, he can score and he's got a knack for making big plays from the point guard position. I don't doubt that he'll get drafted, maybe even in the latter part of the first round. That being said, another year or two to get stronger, mature and round out some rough edges as a playmaker could add several years to the end of Terry's career.
Evans: I would love to see Nico Mannion return to Arizona for one more year and polish some of his rough edges. Why not come back, become more consistent as a finisher at the basket and shot-maker to the perimeter, gain much needed strength, and lead his team to the NCAA Tournament? In doing so, his stock would be centered more around the first-round range compared to now where he could easily slide into the second round.
McDonald: I could go for any of the Kentucky guys going pro this year on this one, but in particular Tyrese Maxey should have come back. It's hard to play in the NBA at 6-foot-2 when you shoot under 30% from three-point range. There are enough positive traits here that coming back to school for another year or two would be better for him long term.