Richmond four-star Coleman in high demand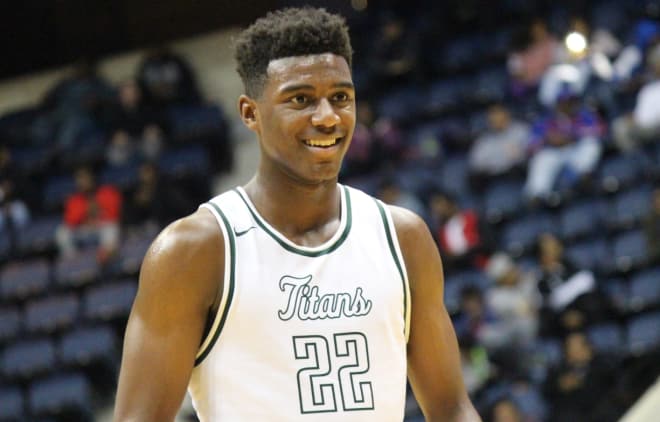 HAMPTON, Va. – The city of Richmond is one of the more underrated locales for basketball talent, and Henry Coleman is the next man up. A 6-foot-7 forward who competes with one of the best motors nationally, Coleman has not been short on college interest, as a number of name-brand schools have already jumped in with an offer.
Blossoming this spring into a must-get for the nearby high-major programs, Coleman discussed how the spring has gone so far.
"I have just been in the gym and seeing my recruitment pick up. I have gotten my shot better and my handles better," he said. "Coaches last year, they just said that they were the two things that I had to work on and doing that, getting in the gym every day, getting up at 5 o'clock every morning before school, it is just a blessing. Getting all of these offers come in, it is really humbling."
Coleman has seen his stock take off in recent weeks as Virginia, Virginia Tech, Wake Forest, Ole Miss, Florida, NC State, Georgetown and Oklahoma State are just a few that have placed a priority on the four-star sophomore.
MORE: Bossi's Best - the 10 toughest beats of the past five years
IN HIS OWN WORDS 
NC State: "I talk to Coach (Kevin) Keatts. They really like me, and they see me changing the program around. In his first couple of years being there, he just says that I can be the guy that shifts their paradigm and brings the team back."
Oklahoma State: "They see me playing that small-ball power forward role at the next level. Their program and having that connection with the coaches, they are recruiting me really hard with Coach (Dave) Kontaxis, he has been here a couple of times, and with Coach (Mike) Boynton, we are building a very strong relationship. That is the most important thing whenever you are coming down to picking that last and final school."
Virginia: "They see me playing the four, but also the three around other athletes. They haven't offered yet, but my mom went there. My dad played at Virginia Tech, but he still really likes the school and just seeing your parents there every day would (make) me play even harder."
Georgetown: "Getting Mac (McClung), another (Team) Loaded guy, and Antwan (Walker), I just like how they push the ball and they are just a bunch of guys that are gritty and they really, really want to win and just cannot lose. I think that I fit that style really well with my motor."
Virginia Tech: "It is another hard and gritty playing team, a four-guard system. Me playing that four or the three, I could fit their program. All of those guys play with a high motor just like me. My dad wants me to go wherever I want, but if I go to Tech, he would be really, really happy."
Florida: "They just said that they want me to come in and be a winner. Even my freshman year, I have the capability, since they see the way that I lead my team and I can definitely go in there and be a leader as a freshman."
Wake Forest: "Coach (Danny) Manning, he is just one of those guys that has played in the NBA and he really knows about the process. He can really help me get to that stage and with everyone going to college, many don't know where they fit in. But with Coach Manning, he is really good at showing me how I would fit there."
WHAT'S NEXT? 
Coleman will complete his junior travel ball season on the adidas circuit with the Team Loaded VA 17-under unit.
He recapped his past few weeks and what might be ahead. "I haven't been anywhere lately," he said. "I think that I have a couple of visits in June coming up to maybe Virginia, Georgetown and NC State."
RIVALS' REACTION  
Coleman fits the mold in today's game, in which multi-positional prospects that can defend different spots, make shots and compete on both ends are extremely valuable.
While his recruitment is just beginning to take off, expect for more to jump into the mix, thanks to his strong academic background and the consistency in his production. The local ACC programs - Virginia and Virginia Tech - may be difficult to beat because of his mother and father's connections to the schools, but each program has a lot of work to do in regards to his commitment.