Richard Isaacs is one of 2022's most wanted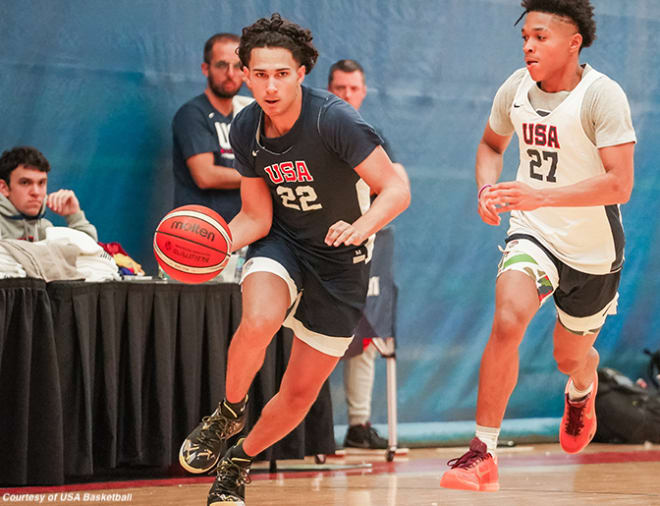 One of the most skilled backcourt players in the class of 2022, top 30 point guard Richard Isaacs is already heavily recruited.
The 6-foot-2 product of Las Vegas who attends Mt. Pleasant (Utah) Wasatch Academy already holds offers from Arizona, Arkansas, California, Florida State, Kansas, Mississippi, Oklahoma, Oklahoma State, Rutgers, TCU, Texas A&M, Texas Tech and UNLV.
Isaacs discussed several aspects of his game and recruitment in an extended Q&A.

Eric Bossi (EB): How have you been doing? You are just coming back from an injury, correct?
Richard Isaacs (RI): I'm just getting back to playing with physical contact in this last week. I had a broken wrist for like two months. I was working out outside and it started drizzling and I slipped.
EB: While you recovered from the wrist injury, what did you do to keep yourself sharp? What are you up to now?
RI: I've been going to Impact Basketball here in Vegas every day and working out with the pros. That's really it. We played three-on-three the other day and that was my first time playing with physical contact in about two months and I felt really good out there. I'm getting my rhythm back. The biggest thing while I was hurt was trying to stay in the best shape possible even with my cast on. I was running a lot and lifting without using my right hand.
EB: Working out with pros, what does that teach you about where you are now and how far you have to go?
RI: Just working out with them in general it is a different level. Working out with them, they are sharp. Pros make shots, so if I go into the workouts missing shots I'm going to look like I don't belong. It is just a different level and they are on the highest level possible. It has been the best thing for me and they have helped to keep me sharp while I'm getting back into shape and getting my rhythm. As far as playing, those dudes are so strong.
EB: Have things been crazy for you since coaches could start contacting you directly back in June?
RI: It has been good. For sure. I talk to Oregon a lot, Gonzaga a lot, Florida State, Arizona State, Kansas has probably been the main one that has been recruiting me the hardest. Saint Mary's is recruiting me really hard too, they are probably right there with Kansas. Arkansas, Marquette, Creighton and Ole Miss are some of the others recruiting me hard.
EB: When you say that Kansas and Saint Mary's are recruiting you the hardest, what are they doing to separate themselves from the others?
RI: Saint Mary's, I talk to Coach (Randy) Bennett a lot like every other day. I talk to Kurt Townsend like every other day too. They just keep in touch the most. They check in with me a lot. Kevin McKenna from Oregon does too, he checks in a lot.
EB: It is a lot different now that you can call them whenever you want and they can call you whenever they want. Do you find yourself asking different questions than you thought you would ask? Has how you look at things changed at all?
RI: The main thing that is different is that I feel like it is all getting closer even though I'm still kind of far away. Them being able to call me was a big step. The only thing I look at different now is that I have to start actually looking at schools I like. I don't really question them, I let them do the recruiting. I want to let them recruit me how they want to recruit me.
EB: You could do this for another two years if you want to. Have you thought about how you want to go through the process? Do you think you will want to take a lot of time with it, do you want to get it done early or is it too early to know?
RI: That's a great question actually. There has been some talk about me reclassifying up so I'm not really sure yet. If I do that then I will start looking into it a little bit more. Right now, if I'm going to stay in 2022. I'm going to wait and I'm not going to rush it.