Report: Muhammads amateur status in question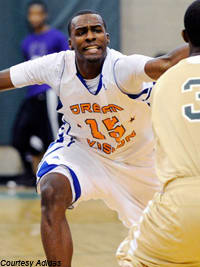 Muhammad, a 6-6 swingman, plays at Las Vegas (Nev.) Bishop Gorman, and has been considered the top player in the Class of 2012 all season.
According to the report, the NCAA is interested in the relationship between Muhammad and his family with two financial advisors, Benjamin Lincoln and Ken Kavanagh. The report said improper payments for unofficial visits to colleges and to cover costs for Muhammad's summer team have come under question.
Messages left for Muhammad and his father, Ron Holmes, were not immediatedly returned Wednesday night, as was a message left for Bishop Gorman coach Grant Rice.
Jerry Meyer, the national basketball recruiting analyst for Rivals.com, said he couldn't recall a similar move by the NCAA - but thought that may be a good thing.
"This is quite an unusual situation where the NCAA has preemptively warned schools about the eligibility of a recruit," he said. "The fact that they have done that leads me to believe that the schools recruiting him will continue to recruit him because they have faith that there won't be retroactive punishment in this situation. From the looks of it, the NCAA is being up front with this situation. Obviously, there could be developments where the NCAA comes down with a harder line and schools begin to backtrack."
Eric Bossi, a basketball recruiting analyst for Rivals.com, said it's too soon to speculate on what could happen - or what a potential punishment could be.
"Until we know more about exactly how long schools have known about potential eligibility issues, this is a tough situation to get a read on," he said. "If schools have known for a while and have continued to recruit Shabazz then it's reasonable to assume they feel good about his qualification chances and amateurism."
"Also, it's important not to jump to conclusions here. The NCAA puts several high-profile athletes through the ringer each year and it's not uncommon for some to have to explain some relationships. However, it is uncommon for it to become public knowledge and have specific names and relatives mentioned."

He visited Kansas last weekend; and was expected to visit Duke this weekend.
Muhammad was expected to fly out of Las Vegas on Thursday night and spend the weekend at the campus, sitting behind the Duke bench when it takes on North Carolina on Saturday.
It's unclear at this point if he'll make the trip.

[rl]