Reebok Big Time: Tuesdays action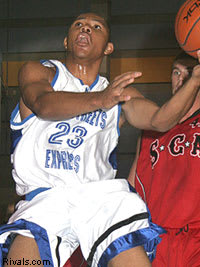 The duo had another vintage performance to advance to the Elite Eight of the Reebok Big Time tournament. Mean Streets had 22 points from Rose and 28 points from Gordon and Positive Image simply had no answers. No one has really all month long since the two formed the best backcourt in the nation.
Rose is the best blend of athleticism and pure point guard skills AAU basketball has seen since…find a name to put here. The knock against Rose was he was too unselfish, if you can call that a knock, but since the playoffs at the Peach Jam, he's scoring at will.
Gordon is the best blend of strength, athleticism and perimeter scoring. It's scary to think what he can become once he develops his midrange game. Is there a better pure scorer out there like him?
With several of the top dogs bowing out early in the Big Time tournament, onlookers were hoping to see the tourney favorite stick around for a little longer. The SoCal All-Stars fought off a valiant effort from the Spiece Central Stars in a 71-66 victory to move onto the Elite Eight of the tournament.
Hahn's three-pointer in the corner with 35 seconds to play was called off because of a timeout called by the Spiece bench just a millisecond before Hahn launched the shot that would tie the game. Instead the score was waved off and SCA converted on a pair of free throws to catapult them into the next round.
Ed Rolax, 2007 – A mid-major program is going to get a good 6-foot-6 forward in this St. Petersburg Catholic prospect. Rolax is relaxed and efficient each time out on the floor. He only scored 10 points for the Lee Buls but they were big buckets and his eight rebounds were just what the doctor ordered.
Karon Johnson, 2009 – Wowza. The 6-foot-6 forward for the Richmond Squires is big time. Don't let anyone tell you he is going to be big time. He already is. Johnson is a super athlete with a good midrange game. He had it all going to the tune of 24 points and eight rebounds against the Rising Stars of America. Johnson was one of the top dogs of the day without a doubt.
Elite Eight
9 a.m. – Spiece Indy Heat vs. H Squad
10:20 a.m. – Long Island Lightning vs. Mean Streets Express
11:40 a.m. – Minnesota Magic Elite vs. SoCal All-Stars
1:00 p.m. – Richmond Squires vs. Houston Jr. Hardballers