Reebok Big Time: Monday action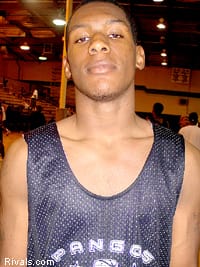 LAS VEGAS, NEV. - Another day, more heat and continued play from the Reebok Big Time tournament in Sin City. Monday provided hoops fans with several strong performances and one West Coast team lived up to their name and flashy jerseys.
Read any tournament report from the AAU trail and the day's top performer generally goes first in our reports. On Monday, there wasn't a single player that shined brighter than everyone else. The top dog that we laid eyes on at the Reebok Big Time wasn't a player it was a team – the Oakland Soldiers.
To understand the Soldiers, you have to get a look at their jerseys. The team's play justified the camouflage trim and lived up to their name from tip to the final buzzer. The Bay Area crew is like a traveling Ultimate Fighting posse. They don't mess around. When the ball is tipped, it's all business and every possession is played with major intensity unmatched by anyone that played at Silverado High School or any high school gym that we've been in so far in 110-plus degree a day Las Vegas.
The Soldiers went to war and followed the lead of class of 2007 prospect
Wendell McKines
. The undersized power forward (6-foot-5) dominated the game inside the paint, pushing players around and dunking everything he could. The Richmond (Calif.) HS product stepped out and popped a couple of triples in the process, too. No one could match his intensity and by the game's end, no one wanted to get near him for fear of catching an elbow or be the recipient of a personality changing dunk.
"That's the only way I know how to play," McKines said after his team's 84-55 opening round win. "You gotta go hard. I've never been slow. Ever. I don't know if I can play like that."
As McKines,
Drew Gordon
and the rest of the Soldiers prepared for their night time battle, fast rising big man
Eli Holman
spent some time by himself away from his team and alone with his own thoughts. His pre-game ritual put him in a good place. Maybe not for the opposition but for him, it worked.
Holman didn't shine in the box score but his 6-foot-9 presence inside the paint was certainly felt. He's not afraid to block five or six shots a game but most of all, he changes the way teams score the ball. Holman is developing himself into a high priority prospect this month and he's doing things to certainly justify that with his play.
He is just a class of 2009 prospect, but put
Reeves Nelson
down as a guy to watch closely down the road. The 6-foot-5 forward sat back and learned from the four Division I players last year at Modesto Christian. That time learning and watching is paying off. Nelson is a basketball player. There is no other way of putting it. He makes plays and has an old school feel to his game. Just 14-years-old, Reeves is developing at a nice clip.
There are no secrets about how good Purdue's 2007 recruiting haul is. And there is no secret about how good Jujuan Johnson can be in college. The four-star big man fought through foul trouble against Triple Threat, as well as a frontline that threw three high-major guys at him in the points, and finished with an impressive 15 points in a hard fought 64-58 win for his Spiece Central Stars team.
Johnson buried a pair of shots a step inside the three point line and gave the bigger and stronger frontline fits with his length on both ends of the floor. Johnson doesn't just block shots, he disrupts shots. A lot of them. Once he hits the weight room and gets his body ready for the rigors of the Big Ten, Johnson has the chance to do some special things as a collegiate player.
Triple Threat could never find a rhythm as a cohesive unit to knock out Spiece but the team did get a strong performance from Virginia Tech bound big man
Jeff Allen
. The lefty scored 20 points and had help from 2008 prospect
Chris Braswell
, who added an impressive nine points. Scoring guard
Jeff Jones
put in a hard earned 16 points but never seemed to really find his rhythm in the game.
Tirrell Baines's commitment and de-commitment to College of Charleston went way below the radar last school year. His future commitment won't do the same. The prep school bound wing could very well be a guy that makes some noise come winter time. He made plenty of noise on Monday morning for New York Elite.
Baines scored 31 points and pulled nine rebounds in a 77-63 win against the Dallas Mustangs Again squad. The athletic 6-foot-6 wing shined in the transition game and had things going for him in the midrange game. The South Carolina native will spend a post grad year at Patterson (N.C.), where he played last year, and should very well catch on with a high-major program. He has that kind of talent.
Even as the No. 53 ranked player in the country by Rivals.com,
Jason Henry
is still a national sleeper. Maybe it's because he has moved from his West Memphis, Ark., home to metro Atlanta. Maybe it's because he hasn't played much on the national circuit. Maybe it's because he is taking a prep year. We know about him. And the college coaches are starting to really pay attention, too.
Henry is a kind of player that people will be asking about where he came from once he gets to college. He has a big time game and he is still trying to figure out just how good he can become.
For starters, Henry is 6-foot-5 and is certainly capable of playing the point. He has great ball-handling skills for a guy his size. He knows how to split defenders with precision. He is smooth with the ball in his hands. Once his jumper comes around and Henry plays with more patience and gains a better understanding of the game, there is no telling just how good he'll become.
No one can sell Alexis Wangeme short of working hard. The big man for the San Antonio Spurs brought his hard hat with him to Vegas. He efforted himself to 27 points in a tournament ending defeat to the H-Squad. The chiseled power forward is headed to Blair Academy this fall and he could very well show up there as a committed man.
Playing up in the 17 and under division, the Worldwide Renegades 16 and under team doesn't seem too bothered by the older kids. Especially not class of 2008 guard
Teondre Williams
. The athletic guard poured in a game high 22 points against New Height NYC to advance to the next round and remain undefeated.
Williams, a high-flyer from Meadowcreek High School in Metro Atlanta, relied more on his jumper and midrange game in the hard fought victory. He's developing into a good-looking high-major kid from the class of 2008.
SCHOOL LISTS
Wendell McKines said San Diego State, San Jose State and St. Mary's have offered and since the ABCD camp, he is hearing from a host more including Washington State, UNLV, Nevada, Miami, Washington, Wyoming and "all of to the local schools."
His high school teammate, Eli Holman is making himself a high-major must-get. Since leading the ABCD camp in blocked shots, Holman said he is hearing from UConn, Indiana, Miami, North Carolina, Syracuse, Virginia, Virginia Tech, Wyoming and "the entire Pac-10."
Since parting ways with College of Charleston, Tirrell Baines has heard from Oklahoma State, Virginia Tech, Mississippi State, Fordham, DePaul and St. John's. Baines is spending a prep year at Paterson (N.C.).
Jason Henry said he is hearing from Tennessee, Memphis, LSU, Mississippi State and Oklahoma.
ALL EYES ON ME
Virginia brought its own version of Triple Threat to see
Jeff Jones
play. Three assistants from the ACC school were joined by Bobby Lutz and Rob Moxley of Charlotte, Seth Greenberg of Virginia Tech and assistants from Maryland, NC State, Wake Forest and Boston College.
Matt Howard
had a battle with personal fouls but managed to have a pair of key blocks with less than two minutes to play to help keep the lead for the Spiece Central Stars. Fouls limited looks for the staffs from Butler, Miami (OH) and Xavier as well as an assistant from Indiana.
Pitt's Jamie Dixon and Boston College's Al Skinner watched
Teeng Akol
in the morning along with assistants from DePaul, Florida, St. John's and Georgetown.
LSU head coach John Brady, Illinois head coach Bruce Weber and assistants from DePaul and Kentucky were all on hand to see
Nayal Koshwal
of the Chicago Jaguars.
Chris Barnes
, a Georgia native playing with SE Elite, had Florida, Auburn, UAB, Tennessee and Alabama watching his game along with under-recruited guard Courtnei Fortson. Fortson scored 17 points and grabbed 10 rebounds in an opening round win.
Bruce Pearl checked out
Jason Henry
, one of the biggest high-major sleepers in the Southeast.
New Heights forward
Josh Owens
drew a large crowd against Worldwide Renegades 16 and under team. Vanderbilt head coach Kevin Stallings was joined by assistants from Stanford, Notre Dame, Georgetown, Notre Dame and Penn.
The Oakland Soldiers crew drew a strong Pac-10 crowd to their game. Arizona head coach Lute Olson was joined by assistants from Arizona State, UCLA, Cal, Oregon State, and Oregon. Assistants from North Carolina, Kentucky, Michigan and Louisville were also on hand, mainly to get a glimpse at 2008 prospect
Drew Gordon
.