Sweet 16 Recruiting Flashback: Notre Dame vs. Wisconsin
THE MATCHUP
The game: Of the Sweet 16 games, six of the eight matchups aren't terribly surprising. The East Region game between No. 7 Wisconsin and No. 6 Notre Dame that's set to tip at 7:27 p.m. ET Friday from the Wells Fargo Center in Philadelphia is one of the two that diverts from the expected. Wisconsin dispatched Xavier with a buzzer-beater while Notre Dame survived against buzzsaw 14th-seeded Stephen F. Austin.
THE KEYS
Neither the Badgers nor Irish are particularly big, but the Irish do have the best true big man in the game in senior center Zach Auguste. He should be able to help the Irish control the glass. Demetrius Jackson can get to the rim and find shooters for the Irish as well. For the Badgers, it's imperative that junior forward Nigel Hayes gets back in the flow because it will be tough for them to survive another poor shooting night out of their best player.
HOW THEY WERE BUILT
Eric Bossi on Wisconsin: Though he spent most of the season with an interim tag after longtime coach Bo Ryan stepped down, Greg Gard is the man of the future in Madison and he was very active in building the Badgers. Similar to the way Tony Bennett has built Virginia, the Badgers have focused on guys that have skill and toughness. When they landed junior guard Bronson Koenig there was little doubt that the four-star shooter would be a good player. But speaking frankly, they've surprised many in the recruiting industry with the production and performance that they've gotten out of guys like Hayes and Vitto Brown. Bottom line, Gard and Wisconsin know how to identify, target and land players that will be successful in their system and haven't ever worried about rankings.
Bossi on Notre Dame: Coach Mike Brey also values skill and toughness but he's enjoyed more success in recruiting highly ranked players. Not only that, he hasn't been afraid to make a package deal happen in order to land somebody as there is little doubt that bringing in junior Austin Torres helped tremendously when it came to landing their stud floor general Jackson. Auguste, forward V.J. Beachem and freshman guard Rex Pflueger were all highly recruited four-stars while their roster features another four players who were Rivals150 prospects, so their success shouldn't be a huge surprise.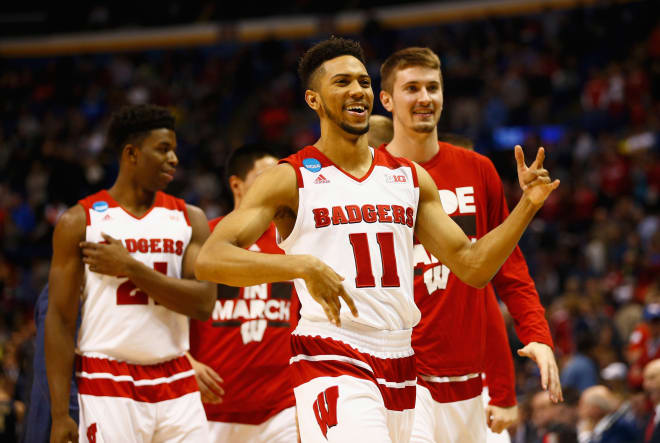 Notre Dame                                                  Wisconsin
                            STARTERS
                                 STARTERS

Demetrius Jackson – Junior, 6-1, 201




4-star PG from 2013 class (ranked 38 nationally). Broke his high school scoring record that stood for nearly 25 years with 1,934 career points.




2015-16 Stats: 15.4 PPG, 44.3 FG%, 32.5 3PT%, 80.3 FT%, 4.8 APG

Bronson Koenig - Junior, 6-4, 190




4-star PG from 2013 class (ranked 73rd nationally). Named Wisconsin Player of the Year by the Associated Press during senior season.





2015-16 Stats: 13.3 PPG, 39.7 FG%, 39.6 3PT%, 76.8 FT%, 2.4 APG


Steve Vasturia – Junior, 6-5, 212




4-star SG from 2013 class (ranked 108th nationally). Averaged 20.5 points, 7.1 rebounds and 2.5 assists in his senior high school season.




2015-16 Stats: 11.7 PPG, 44.4 FG%, 35.3 3PT%, 85.9 FT%, 3.2 APG

Zak Showalter - Junior, 6-2, 184




Father Steve, also played for Bo Ryan at UW-Platteville from 1985-89.





2015-16 Stats: 7.4 PPG, 45.2 FG%, 35.0 3PT%, 80.4 FT%, 2.1 APG


Matt Farrell – Sophomore, 6-1, 175




Concluded his high school career as the school's assists leader (542 assists).




2015-16 Stats: 2.0 PPG, 30.0 FG%, 86.7 FT%, 1.4 APG

Ethan Happ - Freshman, 6-9, 230




3-star SF from 2014 class (ranked 123rd nationally). Averaged a double-double (33 PPG, 15 RPG) his senior year in high school.





2015-16 Stats: 12.4 PPG, 54.0 FG%, 63.9 FT%, 7.8 RPG


V.J. Beachem – Junior, 6-8, 200




4-star SF from 2013 class (ranked 86th nationally). Played AAU ball with the Eric Gordon All-Stars alongside teammate Demetrius Jackson.




2015-16 Stats: 11.5 PPG, 46.5 FG%, 44.4 3PT%, 53.8 FT%, 3.9 RPG

Nigel Hayes - Junior, 6-8, 240




3-star PF from 2013 class. Chose Wisconsin over Stanford, Ohio State and Minnesota.





2015-16 Stats: 15.9 PPG, 36.9 FG%, 73.8 FT%, 5.8 RPG, 3.0 APG


Zach Auguste – Senior, 6-10, 240




4-star PF from 2012 class (ranked 97th nationally). Averaged 15.0 points and 8.0 rebounds his senior high school season.




2015-16 Stats: 14.2 PPG, 55.3 FG%, 62.6 FT%, 10.8 RPG, 1.1 BPG

Vitto Brown - Junior, 6-8, 237




3-star PF from 2013 class. Recorded 20 double-doubles his senior year in high school. Also ran cross country.





2015-16 Stats: 9.8 PPG, 44.7 FG%, 76.4 FT%, 5.1 RPG


KEY BENCH PLAYERS


KEY BENCH PLAYERS

Rex Pflueger – Freshman, 6-6, 198




4-star SG from 2015 class (ranked 83 nationally). Averaged 17 points and 3.4 assists his senior year in high school at Mater Dei.




2015-16 Stats: 2.5 PPG, 37.7 FG%, 95.2 FT%, 1.1 APG

Jordan Hill - Sophomore, 6-3, 175




Averaged 15.5 PPG and 7.0 RPG as a senior in high school at LaSalle High School in California.





2015-16 Stats: 3.0 PPG, 37.6 FG%, 33.3 3PT%, 66.7 FT%


Bonzie Colson – Sophomore, 6-5, 225




3-star PF from 2014 class (ranked 145th nationally). Two-time Rhode Island Gatorade Player of the Year (2013 and 2014).




2015-16 Stats: 11.4 PPG, 54.3 FG%, 76.7 FT%, 6.8 RPG

Khalil Iverson - Freshman, 6-5, 205




3-star SF from 2015 class. Chose Wisconsin over Tennessee. Finished as the all-time leading rebounder for Hayes High School (897).





2015-16 Stats: 2.6 PPG, 46.4 FG%, 52.8 FT%, 1.9 RPG