Recruiting coming into focus for four-star DeMarr Langford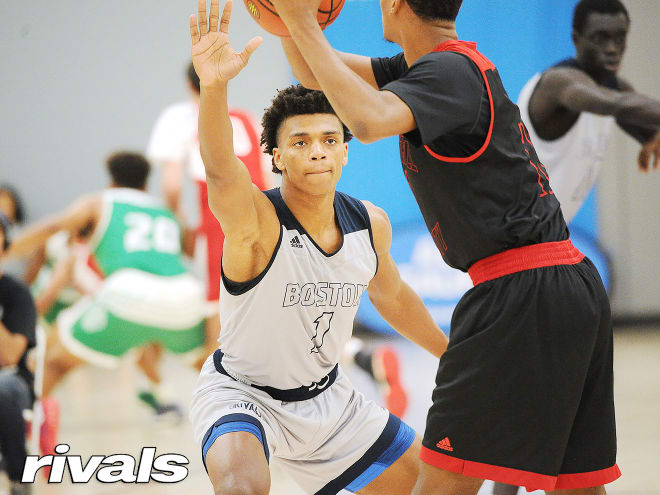 NEW HAVEN, Conn. – A budding name out of the New England prep ranks, DeMarr Langford is on the cusp of his national emergence. One of the top perimeter defenders in his class, the Rivals150 junior has begun to see some of the top programs begin to pursue with greater priority. Following his time at the National Prep Showcase, we sat down with Langford as he discussed four schools that have begun to stand out, an offer from a familiar program and the possibility to reclassify into the 2019 class.
Corey Evans (CE): Let's talk about your junior year so far and your national ascension in a way. What has all of the college interest been like for you?
DeMarr Langford (DL): It has been a lot more abundant and it can be a little frantic at times, but I am cool with it. It is a great feeling.
CE: You have how many scholarships right now?
DL: Twelve.
CE: Of those 12, who do you feel has made you a priority so far?
DL: UConn, Pitt, Texas Tech hasn't offered me yet but I can see they are really trying, and Virginia Tech.
CE: UConn has been coming hard at your teammate, Akok Akok, but also you, so what are they telling you?
DL: Just what I can do for them and bring to the table if I were to go there and Akok Akok would, too, with him being a five-star and the leader of the team. Me and him being on the floor at the same time, like you saw today, we can get points, we can get dubs, and we can do anything else that is needed.
CE: Being to the UConn campus, what are your feelings there?
DL: It is a great campus and a great basketball school and team, especially since coach (Dan) Hurley took over. I have seen a very hungry team with them.
CE: Another program coming after Akok hard is Pitt. What has coach (Jeff) Capel had to say to you?
DL: He has been asking me a lot of questions about what my recruitment is like and what it feels like having all of these schools coming at me. He has been asking about if I care about being far from home or not, which I do not, as long as I feel like it is a family there, then I am straight.
CE: What are your feelings about coach Capel and the new staff?
DL: He has been asking me what type of coach that I like and want and I told him coach Vin (Pastore). He will tell you either your suck and what you can and need to work on. You got to do to whatever you can do make your team win.
CE: Do you feel like coach Capel is that type of guy?
DL: I do.
CE: Texas Tech is another one coming at you, as you said, and a bit different than the others. What is your feelings about them?
DL: I feel good about them since my friend Josh (Mballa) is there. He has told me that he is having a great time there and that they are pushing him and making him work hard and even though he is still working to get minutes. I think it is a great school, too.
CE: Another friend of yours is Wabissa Bede. What are your thoughts about those guys down at Virginia Tech?
DL: I haven't been there yet but I wanted to take a visit down there but they are doing a great job with pushing the ball but also slowing things down and getting stops on defense.
CE: What are your feelings about Buzz (Williams) and those guys on staff?
DL: I like Buzz. He is a great guy and he gets what he wants and if he does not, he will show you what exactly he wants. I really like him.
CE: Lastly, Providence offered you a few weeks ago, a program where your brother (Makai Ashton-Langford) plays. What were your thoughts about that offer?
DL: It was a great feeling considering the fact that Makai is there and the thought of playing with my brother is cool but it is not about the fact of playing with him but rather about where I want to go. They aren't off to a great start this year but I think once Makai picks it up, they will be a great team.
CE: In the meantime, would you like to take any of the allotted official visits that you're now allowed to take?
DL: Yeah, I would love to take my five and then next year, take another five.
CE: Anyone in mind yet?
DL: None yet. I still have to set them up.
CE: There is a potential for you to come out in 2019. Does that intrigue you at all?
DL: It has. I am not in a rush, though.
CE: What are the pros and cons of each.
DL: Pros would be I could get out of high school and try and be a one-and-done in college. The con of it would be that this my last high school year so I would have to get everything straightened out and be in kind of a rush. I don't want to be in a rush and I like to take my time. If I have to do another year at Putnam (Science Academy), then I will do another year.