Recruiting beginning to ramp up for three-star Deivon Smith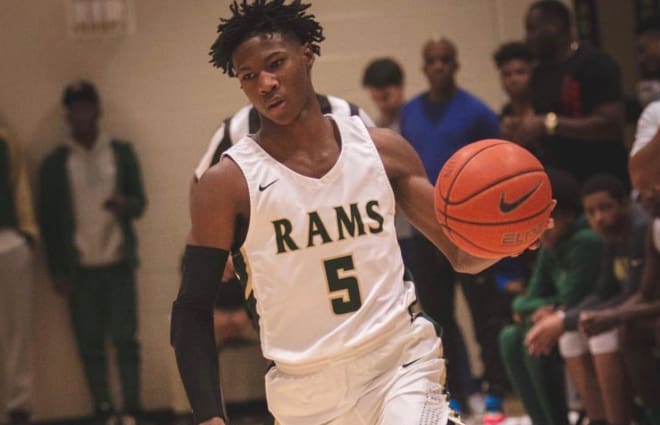 The high school season is young, but new prospects are starting to emerge as serious options for high-major programs around the country. One of those prospects is Deivon Smith, a point guard in the 2020 class out of Georgia.
The super-athletic 6-foot guard recently shined at the On The Radar Hoops Tip Off Classic in front of an assistant from Florida and scored an offer from the Gators that night. Georgia had stopped by his school for evaluations three times in the past couple months and offered this weekend. St. John's and TCU also joined his offer list in the past couple weeks.
Alabama, Butler and Georgia Tech have shown a lot of interest in Smith as well. He's been on campus at Georgia and Georgia Tech multiple times already.
IN HIS OWN WORDS
Smith spoke on his interest in some of the schools involved in his recruitment.
Alabama: "They watched me work out in September. They told me I remind them of Collin Sexton."
Florida: "I like it a lot. They got Tre Mann and Scottie Lewis coming in. I like the way they play. I don't really know too much about their coaching staff yet."
Georgia: "I like Georgia a lot. I've been up there three times I think. It's pretty cool. I like coach (Tom) Crean a lot. He came and visited me at my school and checks in on me after games."
Georgia Tech: "They just recently started recruiting me. I've been there twice. Coach (Josh) Pastner and coach (Julian) Swartz, they are cool. I talk to them a lot."
On schools he would like to hear from: "Florida State and North Carolina. I like the way they both play and a lot of people have gone to the NBA from those schools."
RIVALS' REACTION
Recruiting is just now starting to ramp up for Smith, so it's probably a little early to start forecasting how his recruitment will play out. Georgia has probably done the most work of any school with his so far and have had him on campus the most. Florida becoming his first high-major offer should keep the Gators in the mix in his recruitment. If his play continues to stay at this level or improve, the number of options for Smith will only continue to grow. He's aiming for a decision early in his senior year.