Real Deal off and running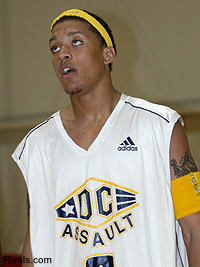 Fayetteville, Ark.
-On a night when the D-One Greyhounds showed up over an hour late for their showcase game in Bud Walton Arena, reclassified combo guard
Jason Henry
stole the show on the court, and
Michael Beasley
was the news off the court at the Real Deal on the Hill.
With all the confusion as to whether Beasley is still committed to Charlotte with the departure of assistant coach Delonte Hill to Kansas State, Beasley did his best to set the record straight with Rivals.com.
"Basically, I'm still committed to Charlotte, but I'm looking at other schools," Beasley said. "With (Coach) Hill leaving, the bond is not the same. I still love Charlotte and the city, and the city loves me. It might not be the best move, though, for me to go there. More than likely I'll end up at Kansas State, but I'm not really sure."
With such a contradictory quote, Beasley admitted that his situation is complicated.
"I understand there is going to be conflict and controversy, but I just have to deal with it," he added.
Charlotte has recently visited with Beasley at Oak Hill Academy, and Kansas State is expected to come there Tuesday.
The 6-foot-8, 235-pound forward, named North Carolina, Syracuse, UCLA, Louisville, Connecticut, Georgia Tech, LSU and Florida as schools that he shares a mutual interest in.
Whether committed or not committed to Charlotte or Kansas State, those two schools are definitely at the top of Beasley's list.
"You know, I guess I am decommitted, but Charlotte is still at the top of my list with Kansas State," he said. "I'm just looking for a school that can help me get in and out. I want to go to college for a year of two before I go to the NBA, and Charlotte might be that school."
So let's suffice it to say that Beasley is no longer officially committed to Charlotte.
Jason Henry leads Team Angels to victory over Blessed IJN
In the first half, the 6–foot-6, 190-pound combo guard put the clamps on
Zach Payton
. In the second half, he shut down
Eshaunte Jones
. At the end of the game, his team had a 74-67 win.
Along with his stifling defense, Henry has the athleticism and handle to create a shot at will. His shot still needs work, as he readily admits, but he has range off the dribble and went for 17 points in the win.
More impressive than his scoring, was his overall floor play and his ability to get by defenders off the dribble and find open teammates with the pass. Henry ran the point for the entirety of the game.
Looking to attend either Genesis One or The Patterson School to improve his academic standing, Henry claims offers from Oklahoma (previous staff, though), Memphis and Mississippi State and interest from Louisville, Duke and Tennessee.
Eshaunte Jones began the game blazing with a couple threes off the high ball screen and a floater in the lane on his first three shots of the game. In the first half, Jones hit 6 of 7 shots from the field, including 3 of 4 from the arc.
Things changed, however, in the second half when he only scored 5 points on 2 of 7 shooting with Henry guarding him. Jones finished with 20 points.
Jones is terrifically talented offensively. He sees the floor very well and can deliver the quick and long pass. He naturally creates space with his pull back release jumper and has the quicks and craftiness to get in the lane and hit floaters.
It is on the defensive end that he has a lot of work to do. Jones struggled to cut off drivers and was continually turning his shoulder away from contact. He rarely rebounded, as well.
The positive side, though, is that Jones is aware of his need to get stronger and become a better defender, which is why Indiana is his top school right now.
"I've talked to Coach Sampson, and he is a down to earth guy," said Jones. "He is a defensive coach, and that's an area I need to work on. He is just a great all around coach."
Jones also has Michigan State, Miami and Kentucky on his list along with Indiana. He claims offers from all of them, but he did note that he has not spoken with Michigan State lately with the guard commitments they have received.
Leading Blessed IJN in scoring was
Herbert Terry
with 23 points. Terry, who was just recently released from his letter-of-intent with Ole Miss, is an undersized inside player with a big time motor. He picked up his points by getting out in transition and crashing the offensive boards.
DC Assault cruises to victory over St. Louis Majestics
Beasley scored 19 points in limited action on 5 of 9 shooting including 1 of 2 from the arc and 8 of 10 from the line. He also had 5 rebounds, but most impressive were his 5 assists.
Beasley is such a threat as a power player, because of his ability to deliver difficult passes with touch. He sees the diagonal pass and is a very good post feeder from the high post. He also had a number of nice drives to the basket, going both left and right where he carried the ball through contact.
The trick for Beasley is to stay focused and give a consistent effort. When he does this, he is definitely one of the top players in the country. When he doesn't, he is sluggish and ordinary.
Looking in very good physical shape, Freeman was bouncy and explosive off the dribble. He demonstrated an extra gear on a couple occasions where he crossed over his defender and made some tough finishes at the basket with both his right and left hand. Always a threat from deep and in the mid-range, it was nice to see Freeman so effective around the basket as a finisher and rebounder.
Smith played a solid floor game and had some impressive steals in the DC Assault press. Smith did force it to the rim and came up empty on a couple occasions. He was at his best when he was not forcing the issue with the dribble and finding cutters along the baseline with sharp passes.
The trio did get some quality help from their teammates.
Still very raw offensively,
Anthony McClain
blocked a number of shots, and 2009 prospect
Terrence Boyd
ate up ball handlers with his aggressive defense, and attacked the basket in transition.
Rivals.com will continue its extensive coverage of the Real Deal on the Hill throughout the weekend.