Randle talks about recent visits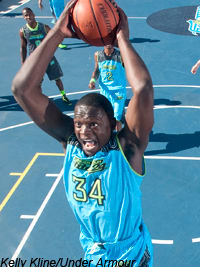 Randle also took some time to discuss his weekend trip to Lexington. It was his first trip and the Kentucky experience didn't disappoint.
"I kind of knew what I was going to get from the program and what they do," Randle said. "What I got out of the visit is that it is really just a family. They are going to push you hard to be the best you are going to be and you aren't going to like it sometimes. But at the end of the day you know they care about you. The coaches are good guys and care about you."
Current players also gave him an accurate picture of life as a UK basketball player.
"It's not really easy. It's going to be hard," said Randle, when asked what the Wildcat players told him about Kentucky. "But the reward is worth it in the end. Like last year they all sacrificed for each other and in the end they were all able to do what they wanted to do individually."
Randle also took notice of the local community's support for the hoops program.
"The fans are crazy," he said. "Everywhere you go the fans are saying 'Come here.' It's pretty crazy, but cool at the same time."
Randle will wait until spring to decide, and he's not feeling rushed to end the recruiting process.
"I'm not even sure what is next right now," Randle said. "Maybe after these in-homes I will cut it down to five or something like that. Or I might just take a quiet period away from it all. I need to focus on school and getting ready for the season. Since I'm not deciding until the spring some time away might not be a bad thing. We'll just see."

[rl]