Randle takes over top spot in Rivals150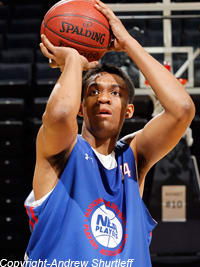 As he's grown older, though, the versatile forward focuses more on the bigger picture - big-time college ball followed by the NBA - than rankings.
"Sure it's a goal," Randle said of being No. 1 in his class. "But I've become more mature in high school so I know that everybody is going to have their own opinion. My focus has become to get better as a player and to help my teammates. My goal has become to win first and then try to establish myself as the best player on the court each time I'm out there."
More often than not, Randle has been able to establish himself as the top player on the court. Physically imposing and skilled, the Texan brings an alpha dog mentality and confidence to the floor.
Capable of bruising opponents in the post, Randle can also attack from 20 feet via the dribble and is a dominant rebounder on both ends of the floor
"Me being able to do a lot of different things on the court," Randle said, describing his strength. "Just helping my teammates get better. Everybody knows my strength is attacking the basket and playing in the post."

"There is a lot of things that I can improve on and that if I get in there and really work that I'm just scratching the surface of what I can do," Randle said, "like learning change of pace ands stuff like that. I get a lot of offensive fouls because sometimes I put my head down and charge.
"I need to work on the mid-range and shoot the ball when people back off of me. I can shoot the ball better than people realize. Also when things aren't going my way, I'm just learning to get to my spots where I'm comfortable and turn things around."
Randle is quick to credit those around him, such as his mother Carolyn and longtime mentor and coach Jeff Webster, for allowing him to take his time with the process and alleviate pressure.
"The people around me have made things easy," he said. "They've always had my back. If there's a time I don't want to talk they let people know."
"Jeff's been tremendous for me," Randle said. "I started working with him in the fifth grade when I first started playing with the Texas Titans. He told me then that he would always have my best interest at heart and I was sold on him.
"When you have somebody who has been through the process it's easier to go to them and talk to them. He's like family to me now, like a big brother or the male figure in my life."
At the end of the day, though, Randle's rock has always been his mother. Not surprisingly, she'll continue to be his most trusted advisor and the person whose opinion he values most as he continues to chase his dream of NBA stardom.
"She'll play a big role. She's been raising me on her own her whole life," Randle said. "She's always been there for me. Even when we didn't have much she made me feel like I had everything.
"She's always been there for me and she's a really strong woman, and I appreciate everything she has done. She's enjoyed this process just like I have."

[rl]