Randle shows off at Hoopfest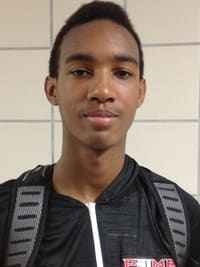 The 6-foot-9 forwards squared off a bit when the teams weren't playing zones, and when they did it was a big-boy affair. Both Randle and Martin play with a high level of physicality and they are both guys who are already very strong.
Martin was very good, but when he wanted to be, Randle was on another level Friday. Dropping a game-high 29 points, the undecided senior power forward was quite impressive. Randle has always been a strong kid, but his frame has really been shaped up and he's added more explosion to his game.
He's always been very quick off the dribble and tough to stop in situations attacking the rim because of his size and quickness, but Randle has sometimes lacked lift in traffic.
That's no longer the case; he's gotten much quicker off the floor when jumping off of both feet and doesn't need to gather himself around the goal in traffic near as much as he used to. His jumper also looks reworked.
"I've been working hard on my jumper," said Randle. "You didn't see it as much today but I'm really trusting it and feeling comfortable with it."
Because he's so big and strong, onlookers often want Randle to play more around the hoop. He will do it when he needs to and the matchup calls for it, though and onlookers just have to understand that attacking from the perimeter and playing facing the basket is a big part of his game. It's also a big part of his recruitment.
"Everybody tells me I can play facing the hoop," Randle said. "Coaches like that I can attack off the dribble and that I'm versatile."
He's visited the Gators and Wildcats officially and told Rivals.com that he'll visit N.C. State the weekend of Jan. 25. He also said he'll take visits to Kansas and Texas sometime in the next month or so. Like Texas, Oklahoma received a fall visit and Randle said that he may replace the Texas official with an official to OU.
With more games like Friday's, Grandstaff's already-strong stock will continue to rise.
Scoring a day-high 35 points, Grandstaff was in attack mode and scored on an impressive array of pullups, floaters and quick-trigger jumpers. He was aggressive and hunted his shot, but Grandstaff was never selfish and also helped out on the glass while he racked up five assists and four rebounds.
He also came up big when his team needed him the most. As time expired, Grandstaff went deep on an inbounds play, catching a long pass, controlling himself and hitting a heavily contested runner from about eight feet as the buzzer sounded to win the game.
Described to Rivals.com as a Ray Allen-like shooter, the 6-foot-4 (maybe 6-foot-5) freshman was pretty darned impressive on Friday afternoon. Obviously he's got a long way to go to be Ray Allen, but the skinny wing is absolutely a lights-out shooter from deep and he's got a long and rangy frame and looks to be a good athlete.
Right now, he's got it pretty easy as his talented teammates draw so much attention, he gets lots of wide open looks. But Ferguson looks to be the real deal and a no-brainer as a potential high-major prospect.

Hammonds moves pretty well laterally and has good length, which allows him to be a good defender and his handle isn't bad. Where we really liked Hammond was when he slid into the high post against the zone and acted as a versatile face-up four man who dished to cutters and hit elbow jumpers. When he gets stronger in the OSU weight room, we can see him playing some at the four so that the Cowboys can create matchup problems with quickness and athleticism.






[rl]