Randle ready to be done with recruiting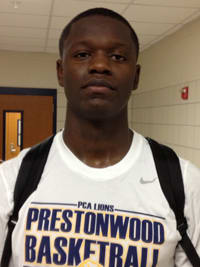 "I got there late Thursday night and overall I think it was my best visit yet so far as official visits go," Randle told Rivals.com. "I got to hang out with Rodney (Purvis) a lot and he's one of my best friends. So that was good."
While Randle enjoyed spending time with one of his best friends, it was more than visiting with Purvis that made the visit a success. Seeing first-hand how the Pack already runs an offense that suits him was important.
"I already knew some of the guys there and getting to reunite with Rodney was good," Randle said. " I kind of knew a little bit about them and how they played because I had studied them. But getting to see how their system fits me in person was good.
"A lot of schools tell you about how their system fits you or how they will change it to fit you once you get there. But, their system already fits me without having to change anything and they showed me that on film while I was there."
"The cool thing for me was when I got there they had [ESPN] College Gameday there," he said. " I got there and as soon as I walked in everybody went crazy and started chanting my name and stuff like that. It was pretty loud, it was a little intimidating. I'm not too big on attention and all of that so everybody staring at me was a little crazy."
"I'm just going to try and enjoy everything," he said. "These are my last two visits so I want to have fun. I think I've done a good job of enjoying my visits so far.
"I don't know if I can see anything new because I've been there before but I know some guys at each place and that will be good. The fans were crazy at N.C. State, so I'm looking forward to see what they bring on these last two visits."
While Randle has been able to take visits as a senior, he's been sidelined since just after Thanksgiving with a broken right foot. Even though he's been limited and will miss the rest of his senior season he's found a way to get some work done and is getting real close to making a return to the floor.
"This week I started doing some court stuff like stationary shooting and ball-handling and that stuff," he said. "I don't have any plans on coming back, I just want to stay in shape.
"By the all-star games like hopefully McDonald's, Jordan Brand, Hoop Summit and all of that I should be good. But as far as this high school season, I'm done."
As much as Randle wishes he could have played his senior season, he does feel that being out has taught him to be more patient and he feels that the newfound patience will help him with the ups-and-downs of his freshman year.
Now that three visits are done, Randle just has to take his final two visits and then make a decision.
Although he called his visit to N.C. State his best official to date, he wouldn't say any school stands out. He is, however, ready to get things over with relatively soon after he finishes his visits.
"My thing was I was going to make my decision after the basketball season," he said. "Our season will end either in late February or the beginning of March. I will end it after that. I'm ready to get it over with anyway. I'm just ready to get to the next step."

[rl]