Rabb sorting out possibilities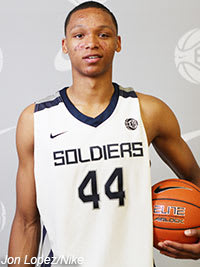 The No. 7 player in the class of 2015, Rabb said that he and his teammates struggled to find energy early in what eventually turned into a double-digit win over Waynesville (Mo.) High.
"The first quarter was just bad all around," Rabb said. "So the second quarter, I realized I wasn't playing hard enough, so the second quarter I just tried to hit the glass really hard and get easy baskets and I did for the most part. I definitely tried to crash the boards because I wasn't rebounding either, so I tried to pick up the intensity.
"I don't know why it was so hard for us, but it was kind of hard to get the energy to play."
After finishing his evening with 15 points, 11 rebounds and three blocks in the win, Rabb took some time to break down where he stands in the recruiting process.
His visit to Lexington was first and it was a good one.
"The visit was really nice," Rabb said. "I got to see them practice and I got to see how hard they really go. I can definitely see why they put so many guys in the pros because they definitely go really hard. Everything they do is just really hard and they try to make an effort to do every single drill, no matter what it is. The campus is really nice and I liked everything about Kentucky. It was really good."
"He says he needs a four who is like me and is going to play hard and finish around the basket and he knows I can score the ball when I get it on the block," Rabb said. "He told me to continue to knock that down the jump shot, because he has seen me do it all summer and especially this high school season when he's been watching me play. He wants me to continue doing those things and add things to my game."
More recently, Rabb was down in Tucson to visit with Arizona.
"They just told me that sometimes you aren't going to have the opportunity to just go for like 25 points a game, so don't expect that when you go there," Rabb said. "Just expect to play in a system. If you are playing well, then (Miller) will definitely continue to bring the ball to you. If you aren't playing so well, he's also going to get the ball to you, but you also have to do other things to try and make your team better."
"I see him all the time," said Rabb of Martin. "We probably have the best relationship because he's so close so I can go up there and work out and do whatever I want. I definitely like him. he's a hard-nosed coach. The guys have gotten a lot better since he's gotten there so that's definitely an eye-opener.
"I just want to continue to get relationships with all of the coaches."
At this point, Rabb isn't able to set an exact date for when he wants to make his final decision. But, he is getting eager to make a decision and once he sets and finishes his last few visits, a decision will likely be made in short order.
"I was thinking once I get my visits in," said Rabb of the decision process. "I definitely want to make the right decision and get it over with. I'm ready to be done with it."