Rabb makes case at Tarkanian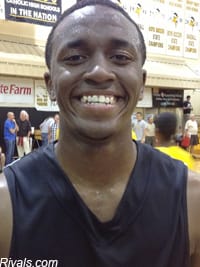 Click
Here
to view this video.
MORE:
Reaves rises up at City of Palms
LAS VEGAS --
Ivan Rabb
, the nation's No. 3 player in the class of 2015, made a case for moving up at the Tarkanian Classic on Friday. The No. 2 player from this year's senior class,
Emmanuel Mudiay
, also came up big, and got enough help from underclassmen
Shawn Williams
and
P.J. Washington
for Dallas Prime Prep to get a win over powerful Henderson (Nev.) Findlay Prep.
Rabb makes case for top spot
Given that he is already ranked No. 3 in the class of 2015, it isn't big news that Ivan Rabb is in the conversation for the top spot in his class. However, it is one thing to be in the conversation and another to make a compelling case. Friday night, the 6-foot-9 power forward at Oakland Bishop O'Dowd put together a sparkling performance against Las Vegas Bishop Gorman and their duo of 2015 five-star big men
Stephen Zimmerman
(No. 2) and
Chase Jeter
(No. 21).
Playing with lots of purpose and battling through leg cramps for much of the second half, Rabb was the alpha dog of the trio of talented big men after a quarter-long feeling out process. By the time he was done going to work, he had put together a strong official stat line of 24 points and seven rebounds (Rivals.com had him with 11 rebounds) to Zimmerman and Jeter's combined 19 and 13 while O'Dowd scored a 68-54 win.
Still a bit on the thin side, Rabb is getting stronger and has wiry strength that surprises given his overall slender build. Where he really excelled on Friday night was using his quickness to get by defenders. He also showed the ability to finish with either hand. The natural lefty spins for jump hooks, uses shot fakes to get opponents in the air and then makes a strong move to the hoop for a slam. He is engaged and active at both ends of the floor.
Mudiay gets help from his friends
Playing Henderson (Nev.) Findlay Prep on any floor is always a scary proposition. The Pilots roll out a loaded lineup each year and their 2013-14 squad is no different as they start five-star senior shooting guards
Kelly Oubre
and
Rashad Vaughn
to go along with top 25 sophomore point guard
Derryck Thornton
and several other talented players. One of the few teams that is equipped to deal with them hit the floor of the Orleans Arena on Friday night as 2014's No. 2 player Emmanuel Mudiay led Dallas Prime Prep into action.
The
SMU
-bound Mudiay was every bit as good as advertised on Friday night as he scored 24 points and dished out three assists in a 70-67 win. What is most impressive about Mudiay is that he doesn't seem to get rattled or rushed. He patiently felt his way through the game and then when it was wining time late in the fourth quarter, the big, athletic point guard took over off the dribble and scored on one electric drive after another.
The future Mustang was far from without help either as two of Prime's youngest players stepped up huge. Sophomore combo guard Shawn Williams and freshman power forward P.J. Washington were unafraid of the big stage and played huge roles at different points in the game.
Coming off the bench after starting at different points in the season, Washington continued to show massive potential. With Prime Prep struggling early to generate any offense, the 6-foot-7 four man unleashed an early barrage of 12- to 17-foot jump shots while doing some heavy lifting on the glass. During his 23 minutes, Washington was good for 12 points and five rebounds, but it was his energy that was the biggest difference early.
A razor-thin, six-foot shooting guard, Williams is a fearless jump-shooter with deep range. He made one deep jumper after another and seemed to have an answer whenever one was needed while going for a game-high 26 points that included connecting on 6-for-8 from beyond the three-point line.
Understandably, Washington -- who said
Kansas
is the first school he has really heard from -- was pleased about his big performance on a big stage.
"I'm real excited," Washington told Rivals.com. "I just wanted to come out and play without making any mistakes. Then I just felt like I couldn't be stopped out there."
Eubanks a spring option
This winter, college coaches will be going over the class of 2014 with a fine toothed comb looking for undiscovered prospects. While
Kobie Eubanks
isn't exactly an unknown, the three-star shooting guard at Centereach (N.Y.) Our Savior is going to get a lot of strong looks.
A native of Florida, Eubanks is a well built 6-foot-4 two guard who has athleticism and the mentality of a scorer. Eubanks has a short memory when it comes to missed shots and he does a good job of mixing up deep jumpers and drives where he uses his strength and athleticism
Eubanks said after a tough win over Rockville (Md.) Montrose Christian that he has had recent contact with
Pittsburgh
,
Minnesota
and
Missouri
and that he has an open mind.
"I've kind of wiped the slate clean," said Eubanks. "I'm interested in a school that is going to push the development and gives some freedom to my position. I would like to know that they will try to prepare me for the next level."






[rl]