Four-star Tyger Campbell set to become priority recruit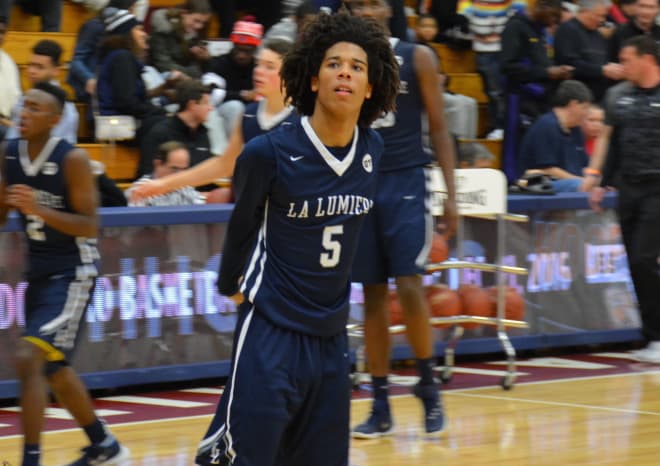 Tyger Campbell made major news last month with his decommitment from DePaul.
A Rivals150 guard, Campbell, who had reclassified a year up and into the 2018 class this summer, has re-evaluated his options this fall as his recruitment has continued to gain steam.
A member of the La Lumiere basketball program preparing to defend the national championship that the Indiana powerhouse secured last spring, Campbell has seen a number of successful programs deem him as a priority.

"I have been getting calls and everything," Campbell said. "(I'm) just taking it one step at a time and looking at all the schools that are looking at me and after that, I am going to line up my official visits in October."
Programs that are in touch with Campbell include "DePaul still, Purdue, Missouri, New Mexico, Memphis and a couple of other schools," he said.
IN HIS OWN WORDS
Campbell spoke further on those involved.
DePaul: "It is a great program. There is no love lost there. I am just looking at all my options and going through the recruiting process. At the end of the day, it is all about what I like the most and where I fit the best."
Purdue: "It is a great program. Sending Biggie (Caleb Swanigan) to the NBA, they send guys to the league, and having P.J. Thompson leaving next year, that is a great look."
Missouri: "My guy Jeremiah Tilmon goes there; he is like my big brother. We talked about it all a couple of times. It is a great look."
New Mexico: "They have an assistant that has been recruiting me for a while. I will probably go out there and see how I like it."
WHAT'S NEXT?
Campbell is in no rush to make a decision, and he remains open to the entire process.
"I just want to find the right fit right now," he said. "I could sign in the fall and I could sign in the spring. Whenever I feel like I am ready."
RIVALS' REACTION
Campbell, one of the best facilitators in high school basketball and a more-than-ready contributor at the high-major level, looks primed for a quality college playing career early on.

DePaul remains the program to beat, though his recruitment remains open as Purdue, New Mexico, Memphis and Missouri, along with many others, are expected to place priority attention upon him in the coming weeks.