R.J. Blakney will be a spring option as a shooting guard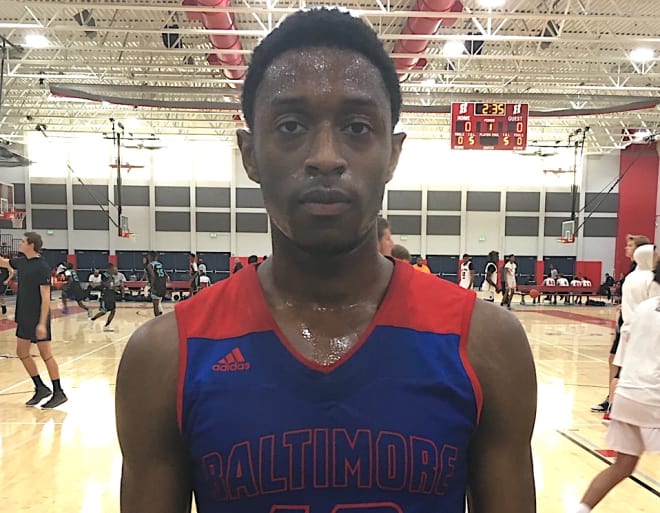 Three-star shooting guard R.J. Blakney isn't messing around or wasting anybody's time. He's made the decision that he's going to wait until the spring to sign.
A 6-foot-5 senior at Hagerstown (Md.) St. Maria Goretti, it's not as if the tough and versatile wing who had a strong summer with Baltimore based Team BBC is lacking for options.
Currently, Blakney holds offers from programs like Hofstra, St. Joseph's, St. Bonaventure, Old Dominion, VCU, Towson, George Washington, George Mason and others. Recently, he's picked up interest from programs like Virginia, Syracuse, Georgetown, Nebraska, Georgia, East Carolina, Virginia Tech and others.
"You don't get this chance back," Blakney told Rivals.com about waiting until the spring to decide. "I'm trying to make an informed decision and go over this with my mom and make sure we get this thing right the first time."
IN HIS OWN WORDS
Blakney discussed the first high major to come see him since deciding to stay open through the winter, his game and what he's working on.
On recent interest: "Virginia came in to see me work out a week or two ago. Since I decided that I want to go ahead and wait until the spring they are the first high major who has had interest that has come in to see me play."
On his playing style: "First and foremost you are going to have a competitor and somebody who loves to play the game and respects his coaches and teammates. I give my all every game. Offensively and defensively and give it you in all aspects of the game."
On what he's working on: "I try to improve each and every year on my game. I'm trying add to my shooting and being more consistent. I can knock down threes but I need to be more consistent with it for the next level. My ball handling has come a long way and I'm comfortable with the ball."
RIVALS' REACTION
Blakney is the classic bubble recruit. He's got offers from several strong mid and upper mid major teams but is also capable of developing into a nice upperclassmen at the right high major program. He wants to see if he's got a chance to prove himself at the highest level and given that he's got good size, is tough, plays hard and has some versatility for a perimeter player, waiting to see who gets involved makes sense.
His most recent unofficial visit was to St. Joseph's over the summer and Blakney reported that he really liked it but that being on a campus also helped him realize that he's not yet ready to decide. Look for his recruitment to really pick up during the winter months when teams start taking a new look at their needs and who they signed during the fall.
Like any high school player, Blakney has a goal of playing in the NBA and he'll take player development seriously when picking a school. He's got some other criteria that will be important, too.
"I also want to go to a school that goes to the NCAA tournament every year," said Blakney. "That's important to me. I want to be a winner and I want to be on that platform and get that exposure.
"I think I can play in pretty much any system. Mainly you have to have an opportunity to be on the floor. I just have to find a place where I have an opportunity to earn a spot."