Quincy Shootout: Bossi's Takeaways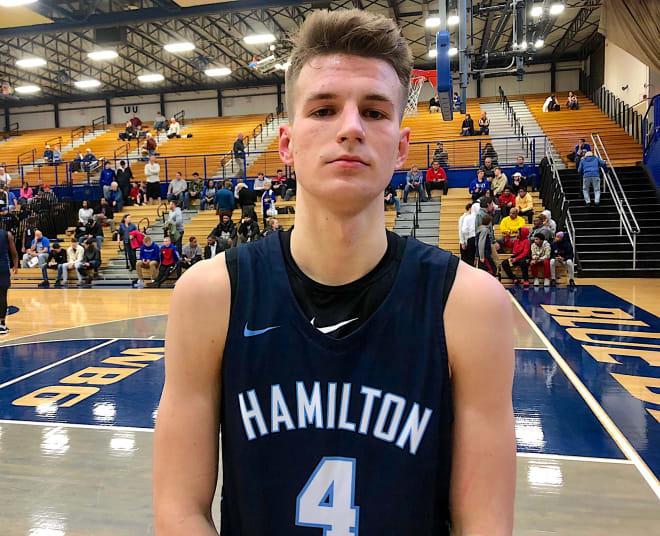 QUINCY, Ill. -- The Quincy Shootout proved to be a great latter season stop on the high school event circuit Friday night. Future Florida Gator Samson Ruhzentsev was among many who made a big impression.

FLORIDA GETTING A POTENTIAL BIG TIMER IN RUHZENTSEV
We are updating our rankings for the class of 2020 on Monday and Florida bound wing Samson Ruzhentsev has already earned a bump up from his current spot of No. 76 in the senior class.
With his performance on Friday night, the 6-foot-6 (maybe a little bigger) swingman at Chattanooga (Tenn.) Hamilton Heights solidified that he belongs in the neighborhood of the top 50.
He has great positional size, is a very good athlete and most of all he is a dangerous shooter. He showed an edge to him as well and doesn't mind scrapping a bit. If he knocks down a couple of looks, he gets rolling real fast and in a game where shooting comes at a premium, he's got the goods to become a high level SEC player and gives Mike White and the Gators an added dimension.

ULIS LOOKS READY FOR THE BIG TEN
The younger brother of five-star, NBA point guard and Kentucky standout Tyler Ulis, Iowa signee Ahron Ulis is proving to be a pretty good player himself.
He's been hovering in the neighborhood of the 2020 Rivals150 since last spring and it may be time for the Chicago Heights (Ill.) Marian Catholic point guard to claim a spot on the inside.
Ulis was flat out terrific in a win over St. Louis (Mo.) Christian and controlled the game in many ways while going for an easy 36.
He hit deep jumpers, he beat defenders off the dribble, set up teammates with his drives and then against a zone went and directed traffic from the middle of the floor as almost a point center. Seeing him post up and look comfortable as a scorer and playmaker with his back to the basket was pretty eye opening and showed that he's got a pretty complete game.
He looks like a legitimate Big Ten point guard and is a nice score for the Hawkeyes.

MORE QUINCY SHOOTOUT TAKEAWAYS
.... This was the second time I've gotten to watch Kansas State bound big man Davion Bradford during the month of January and he has been very good both times. The seven-footer has really learned how to use his size and strength and has developed into a tough customer around the rim. He takes up a lot of space, plays through contact and is realizing the potential that landed him in the Rivals150. He will give the Wildcats some very much needed size and looks much more ready to contribute early than he did on signing day.

.... St. Louis (Mo.) Christian took the loss to Marian Catholic but their junior tandem of 6-foot-6 wings Jordan Nesbitt and Jaden Jones have a chance to be a strong duo. Built like a dude who has been in college for a few years, Nesbitt backed up his status as a Rivals150 member. In addition to being strong, he's added a ton to his game off the dribble and showed off pretty impressive passing ability to go with his ability to finish at the rim. Iowa, Saint Louis, Nebraska and Mississippi are among those who have offered and he's a legit high major talent.
Before transferring from Napa (Calif.) Prolific Prep earlier this season, Jones built a reputation and landed offers from the likes of Alabama, Arizona, Colorado, LSU, Murray State, Rutgers, Saint Louis, San Diego State, TCU, USC and others. He's got good size for the wing and in my first in person viewing showed that he's a really dangerous shooter from deep.

.... St. Louis (Mo.) Chaminade has produced a steady stream of talent including stars like Brad Beal and Jayson Tatum. Sophomores Tarris Reed and Damien Mayo aren't at that level yet, but they are pretty good prospects in their own right. A strong 6-foot-8 post player, Reed does compare some to another former Chaminade star in Tyler Cook. He's strong, has pretty good hands and lots of room to develop as an interior scorer. Mayo is a tough as nails guard who can play all around the perimeter and looks to be a pretty solid glue guy. Reed is in the discussion for the 2022 rankings and has offers from Iowa, Saint Louis and UMKC while Mayo is sure to earn offers sooner than later.

.... Kentucky bound Cam'Ron Fletcher didn't put up huge scoring numbers but I really liked the way he played and picked his spots on Friday. His St. Louis (Mo.) Vashon squad is deep and athletic and though he's a wing in college, he serves as their big man. He played with a good motor, got up and finished above the rim when given a chance and knocked home some open jumpers. He limited his mistakes and played tough on both ends of the floor.

.... In addition to the previously mentioned Samson Ruhzentseve, Hamilton Heights has a lot of talent. Sophomore big man Felix Okpara, senior wing Andersson Garcia and sophomore combo guard Reggie Bass were just a few who had nice moments. Okpara is a thin big who can run and shows potential as a bouncy finisher in the paint and rim protector. Mississippi State and Vanderbilt have already offered out of the SEC. A solid wing with 6-foot-6'ish size and slashing ability, Garcia is a mid major priority who has high majors sniffing around him as a potential spring signee. A native of Indiana, Bass is a tough and physical combo guard.

.... I had hoped to get one last in season look at Arizona State bound wing Marcus Bagley and Gonzaga bound Julian Strawther before Monday. As I've written this winter, Bagley is under serious consideration for five-star status and Strawther has been putting up huge scoring numbers while getting into top shape. Unfortunately, Bagley didn't make the trip with Sacramento (Calif.) Sheldon and Strawther suffered an injury earlier this week sidelining him for Las Vegas (Nev.) Liberty.