Q&A with five-star senior Keion Brooks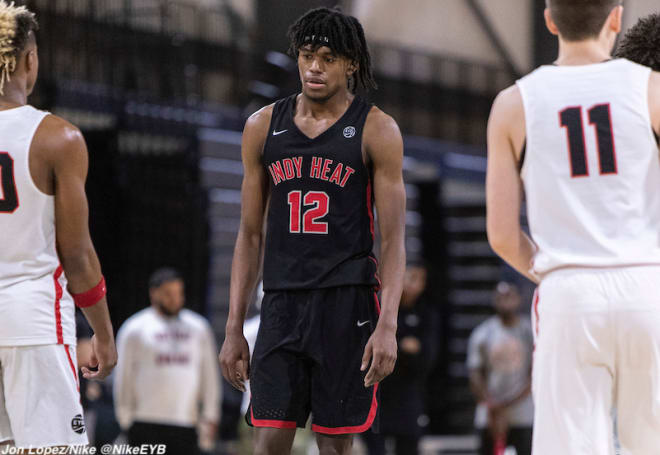 MORE: Where unsigned players could land in April | Top early signees by conference

Undecided five-star forward Keion Brooks won't have a decision in time to sign early.
However, the senior at La Porte (Ind.) La Lumiere will visit Michigan State this weekend and then he's done with visits (*Brooks has since canceled this weekend's visit). Down to the Spartans, Indiana, Kentucky, North Carolina, Purdue and UCLA, Brooks will soon be in decision mode.
As his decision grows closer, Brooks gave a candid and detailed interview about where he is in the decision-making process.
Eric Bossi: How close are you to making your decision? Is it just a matter of finishing this visit up and stepping away from things for a little bit?
Keion Brooks: I would say that I'm close to making a decision. I don't think I will sign early because I don't think that fits my timetable. But I think in a couple of weeks or a month or so I should be able to make a decision.
I just need some time to step away, speak about it with my family, pray on it and then hopefully make a great decision from there.
EB: Let's go through your schools in alphabetical order. What's the vibe you get from Archie Miller at Indiana?
KB: The vibe with Coach Miller has been great. Ever since he got the job he's been making sure that he's putting and emphasis on recruiting me. The rest of the staff has built a great relationship with me and my family. Especially with my dad, who coach (Ed) Schilling coached in college for two years at Wright State.
EB: So you have a relationship there, your dad has a relationship there. You've been on campus officially and unofficially, what stands out about campus and what you've seen first hand at Indiana?

KB:What stood out first hand and was kind of intriguing to me was the weight program. You know I'm kind of skinny and trying to put on muscle and getting to meet Coach Cliff (Marshall) and then get in the weight room and see the improvements that everybody has made. That really stood out to me about the basketball program. Then on campus, everybody is just so nice and so welcoming I got a good vibe. It kind of reminded me of home a little bit.

EB: On to Kentucky. A neighboring state. What John Calipari has done with draft picks and competing speaks for itself. What has he done with you to individualize all of that?

KB: His approach with me is kind of the same as everybody else. You know if I decide to do this, it's not going to be easy but he's going to be with me every step of the way. He's going to try and help to prepare me to play at the next level, which is hopefully the NBA. Then he's going to come in every day and push me to be as good as I can be.

EB: A big part of their recruiting pitch each year is that there is going to be room created by guys leaving for the NBA as one-and-dones or two-and-dones. You look at their roster and they have a lot of young players right now. How do they approach that with you about which guys are going to be gone and prove to you there is going to be that space?

KB: On my official, (Calipari) sat me down and he kind of went through each player at my position and what he thought they did well and what he thought they needed to work on and if he thought they would be able to be drafted and go on to the next level next year. So as we were going through that, I was able to get a good feel for next year and how many minutes I would be able to come in and play.

EB: Moving on to Michigan State, you have been there unofficially before but will be there officially this weekend. What are the things you are going to be looking for?
KB: What I'm looking for there is kind of different because I've been up there so many times and toured the campus a lot. I'm going to just try to see what it's like to be an every day player. I'll probably follow one of the freshmen around to see what their every day routine is like. Also to just see the team practice because I heard coach (Tom) Izzo goes hard at practice so I really want to see what that's like and see if I can fit in.
EB: Coach Izzo has had a lot of success with guys from Indiana going back a long way. Starting with say a Zach Randolph, to Gary Harris and most recently a guy from your school Jaren Jackson. Does he sell that Indiana-to-Michigan State pipeline?
KB: He sells that a lot. He's been letting me know that even though it's not in Indiana, it's the closest school to it. He just feels like I could come in and be a an impact player immediately. He's had former Indiana players and he knows how to coach them and he knows that we are going to come in and work hard. So me being from Indiana he feels like he has the upper hand with that.
EB: North Carolina was your most recent official visit. How did that visit to Chapel Hill go for you?
KB: It went great. It was great because coach Hubert Davis and then coach Roy Williams, they are just great. I feel like everything that they are saying and doing is genuine. They went out of their way to really make sure that I felt comfortable while I was there.
EB: Do you have any kind of relationship with say Armando Bacot from playing against him in the EYBL or at USA Basketball or any familiarity with the other guys they are recruiting from playing against them?
KB: I have a good relationship with Armando. He's a hilarious guy and the times I've been out playing against him and the times I've been around him at USA it's been a joy to be around him. Also the other commit they have, Jeremiah Francis, me and him have been friends since about the second or third grade so I'm kind of familiar with those two.
EB: The other in-state school you are considering is Purdue. You didn't take an official visit there but you know them really well, what stands out about Matt Painter?
KB: What stands out about Coach Painter is that he really expresses that he really wants me. Not only does he want me, but he needs me. He feels like I could come in immediately and have early success like Carsen Edwards or like Caleb Swanigan. Just coming in and being an impact player immediately. Then also coach (Brandon) Brantley, one of his assistants, has done a great job of recruiting not only me but my whole family as well.
EB: I think people have kind of forgotten about them, discounted them or whatever you want to call it in the process. How aggressive has Purdue been of late with their recruiting of you?
KB: Purdue has been doing a great job and has continued to be really aggressive. They were the first to offer me and they have never backed off since then. They've had success getting guys out of Ft. Wayne where I'm from like Caleb Swanigan, Rapheal Davis and they feel like they have a really good shot. They are still going hard to this day.
EB: The final school is UCLA. Maybe the farthest away from home, a blue blood with lots of tradition. What stood out to you on the visit?
KB: Steve Alford. He is a player's coach, so he wants to make sure that his players are the most comfortable all of the time. Just being able to be out there and see kind of what the lifestyle is like being a player at UCLA. With it being in L.A., there's a lot of things that could go your way if you keep your head on straight and do the right thing. But also if you get distracted, it won't work out the best for you. I feel like I've got my head on right. I'm a pretty focused dude. I feel like I could use L.A. to my advantage.
EB: Does it help to have a guy from your home state like Kris Wilkes out there who you probably have a relationship with since you used to be in the same summer program. Does it help to have a guy like him who can shoot you straight?
KB: Oh yeah, him and Tyger Campbell both. It's great. It's really unique with me and Kris because we play the same position and I can sit down and watch him and see what he does. He can also be straightforward with me and tell me what coach really does, what he'll expect of me and how he would like me to play. So Kris has done a great job of recruiting me too.
EB: This has gone a bit longer than I expected it to, I appreciate your patience. Ultimately, what do you think it's going to come down to for you and your family to say you know what, this is the place for me?
KB: I think at the end of the day it's going to come down to fit and somewhere that I feel comfortable on campus. You know I could possibly be there four years if that's what God has in the cards for me. Also, somewhere that I can be held accountable on and off the court. Somewhere that I feel I can play through my mistakes and reach my maximum potential.