Purdue adds third 2018 piece in Rivals150 combo guard Eric Hunter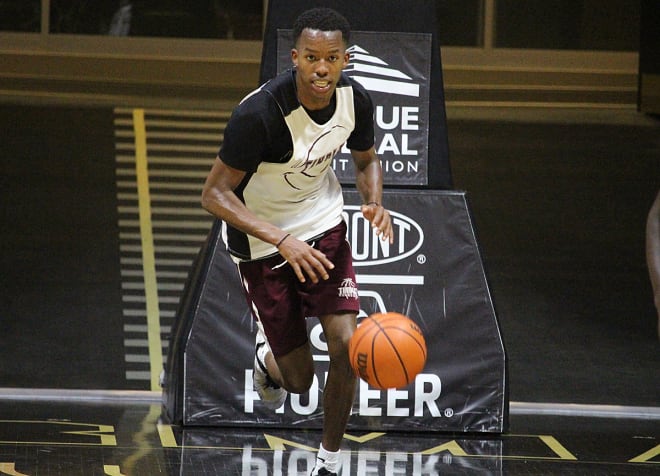 Purdue added its third 2018 commit and second four-star prospect on Monday night when combo guard Eric Hunter announced his commitment.
Ranked No. 126 in the 2018 Rivals150, Hunter's commitment was sealed when he was on Boilermakers' campus again over the weekend. His long time summer coach Omar Dillard of Team Harris says that Purdue is getting a kid who is focused on improving and who is capable of having tough talks about his game.
"Where he is now is really focused on getting better," Dillard told Rivals.com. "He probably thought that he didn't have as good of a spring as he wanted to. We had some tough conversations and he put in some hard work with his trainer and when Gary Harris was in town he played with the pros and really got ready for July.
"Our conversation was that obviously you want to have a good senior year. But you want to be ready to get on the floor as a freshman at Purdue and be ready to play."
A natural scorer with length, an improved jump shot and the ability to get to the rim, Hunter is most ready to come in and play primarily at the two early in his career. But, he's also a good passer and has an eye on playing more at the point as his career in West Lafayette progresses.
"He's got an uncanny ability to score the ball so you don't ever want to take that away," said Dillard. "We used him at the point several times over the last few years so that's where he's going to develop and potentially become an elite player."
Hunter joins four-star big man Trevion Williams and three-star rim protector Emmanuel Dowuona in Purdue's class. He's got big upside and Dillard sees big things for him if he stays committed to getting better.
"Looking at the Big Ten Conference and who is there, I can really see him developing into an All-Conference player. It's going to take work, but I think he has everything to do it."