Potentially elite talents separate themselves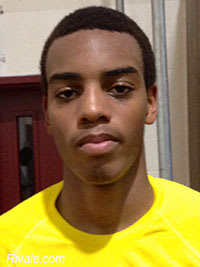 ST. LOUIS -- Each June, the Nike Elite 100 offers a look at some of the top rising sophomore and junior talent in the country. Closed to media coverage until after the event is over, the Elite 100 is a great venue to get early evaluations on some of the top underclassmen. Rivals.com will be recapping the event for the next few days and we'll start off with a group including the likes of Miles Bridges, Zach Brown, Troy Brown and Udoka Okafor who stood out above rest.
Bridges burns those in his path
The No. 33 player in the class of 2016, 6-foot-6 forward
Miles Bridges
simply stood out as a man amongst boys throughout the entire camp. A native of Michigan who attends Huntington (W.Va.) Prep, Bridges had a dominant run in St. Louis.
Built like a defensive end, Bridges is a powerfully athletic 225-pounder who always seems to be running downhill. He has a toughness about him that is impossible to ignore and doesn't do anything less than 100 percent.
Bridges finished in transition. He drove the baseline, he dunked emphatically, he defended and he rebounded. If you asked anybody in attendance who was catching their eye they were almost sure to respond "No. 88" in their list of the top two or three players that they saw in camp.
It's tough to classify Bridges from a position standpoint. He has small forward height but the strength and mentality of a power forward. All that matters, though, is that Bridges is a basketball player and a highly productive one at that.
Florida big men stand out
Perhaps no single group of players represented themselves better than the big men from the state of Florida. 2016's
Udoka Azubuike
,
Dewan Huell
and
Tony Bradley
along with 2017's
Zach Brown
all did the Sunshine State proud with their play at the Elite 100.
Ranked the highest of the group at No. 15 in the class of 2016, Azubuike easily backed up his five star status. Physically dominant, Azubuike measured in at 6-foot-9 (in his socks), 268 pounds and with a 7-foot-5 wingspan. The thing is that he is every bit as explosive as he is big and Azubuike plays with bad intentions in the lane. He blocks shots, he dunks everything he can and he shows pretty good feet, hands and touch. Once he learns a couple of counter moves in the post, look out.
Not yet ranked because Rivals.com won't rank the class of 2017 until after the summer, Zach Brown was arguably the most dominant big man in the class. The product of Miami (Fla.) Miami Beach High is a highly skilled and fundamentally sound southpaw who really understands how to use his 260 pound size. No big man in camp showed a better understanding of how to feel the double team coming, kick the ball out to a guard, repost and then bury his defender for a bucket. Brown also caught everything thrown to him, rebounded and showed touch to 12 feet. It is very early, but Brown is clearly an elite post prospect.
The No. 32 player in the class of 2016, Huell is another Miami area product who stood out. He has great size, runs the floor and is a bouncy athlete around the rim who wields a pretty nice looking shot. The key for him will be to add strength and some counter moves but he more than backed up his ranking.
As for Bradley, there was already a pretty good chance that he would be entering the 2016 rankings when they get updated at the end of June. Now, he is a lock for them and has been elevated to a four-star prospect. He gets good position in the post, has good hands, runs the floor and is pretty adept at using the backboard from different angles as a scorer.
Best of the backcourt
One of the youngest players in camp, Brown is a rising sophomore who is still only 14 years old. Age mattered little to the 6-foot-5 guard from Las Vegas (Nev.) Centennial though as he showed a complete game. Brown has a point guard's feel for passing the ball, great size, can create off the dribble and is a dangerous scorer to boot. Some might view him as a tall point guard and that is fair, right now Rivals.com sees an extremely versatile young player capable of playing all around the perimeter and causing matchup nightmares. So far, Brown is the best guard Rivals.com has seen in the class of 2017.
Ranked No. 18 in the class of 2016, Canadian Murray easily backed up his lofty status in the rising junior class. A combo guard who can shoot it from deep, attack off the bounce and has a good feel for things it was hard not to see some young Cory Joseph in his game. Murray arrived in St. Louis one of the more polished perimeter players in his class and he did nothing but solidify his reputation as a smooth operator.
Another rising sophomore impressed was along with Brown was Duval. Duval first caught Rivals.com's attention last May as an 8th grader and he's only been getting better since. A 6-foot-1 combo guard with great length, Duval is an athletic and tough driver who can really score in the paint. He defends well, can keep defenders honest with the jumper and mostly did what he wanted when he wanted during camp.
Finally, Howard didn't get that much actual game time to show what he was capable of. But, prior to getting knocked out of camp with a hand injury, the rising sophomore point guard from Arizona showed off an awful lot of what he is capable of in a very short time. Playing in full speed attack mode, Howard unleashed a flurry of jumpers, pull-ups, floaters and drives while also exhibiting outstanding floor vision. Howard is somebody that needs to be evaluated more, but the early returns indicate high basketball IQ and a great motor to help overcome relatively smallish, 5-foot-10, size.

Click
Here
to view this Link.
[rl]