Porter standing tall at Curry camp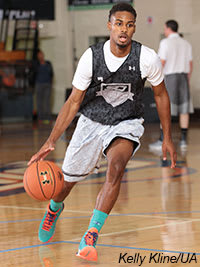 ALAMEDA, Calif. -- The class of 2017's No. 2 player Michael Porter continued to stand out at the Stephen Curry Select Camp on Tuesday because of his size and ability. Because the camp is geared towards perimeter players, the focus is on skill development and there isn't any five-on-five action. However, the four-on-four full court action was spirited showed off how skilled these prospects are.
Porter learns from Curry
One of the two tallest players in camp -- the other being 2017's No. 6 player
Billy Preston
-- 6-foot-9 swingman
Michael Porter
is easy to spot in a group of 20 guards. Even if he didn't tower over most of his fellow campers, Porter's ridiculous skill level would allow him to stand out.
The No. 2 player in the class of 2017 and a product of Columbia (Mo.) Father Tolton, Porter looks like he is going to make every shot he takes because of textbook fundamentals and a general smoothness in the way he operates. However, don't let the ease of which he does things fool you because he is working hard and given the chance to learn from an NBA star like Curry, Porter is soaking up as much as he can.
"I've learned a lot from Steph," Porter saod. "The big thing is creating separation. In the league, they only need a little space to create separation, so I'm learning a couple of moves, little tricks to get open."
Before college coaches could start contacting him directly on June 15, Porter tried to slow things down some by making a list of 17 programs that he would consider. Given that the list wasn't a particularly tight one and because some college coaches just can't see the clear writing on the wall, it didn't do much to ease the flood of phone calls.
However, Porter has learned to manage things and he's even mixed in a visit. After the recent NBPA Top 100 Camp in Charlottesville, Va., Porter wasn't able to make it to
Duke
as planned, but he did make it to
Virginia
and he's a regular on the campus of
Missouri
.
"This summer, the only school I've really gone to is UVa and of course Missouri. I'm there every day working out," Porter said. "Those are the only two schools. I enjoy coach (Tony) Bennett a lot he's a really good dude and their campus is amazing."
By now, most know that Porter has significant family ties to hometown Mizzou. His father is an assistant coach for the women's team and Porter's aunt is the head coach and two older sisters are on the team. However,
Kim Anderson
and the men's staff are not resting easy in his recruitment and see him as the type of star player that could lure even more high end talent to Columbia.
"They always joke about me using their facilities, so I have to come there," Porter said. "They are really cool dudes and their pitch to me is stay home and do something different. They've never had that guy that could reel in other players."
In the near future, Porter hopes to cut his list down to 10 schools and along with Duke, Missouri and Virginia, he mentioned
Syracuse
and
Indiana
as programs that would definitely make the cut.
Porter is considering trying to get together with the class of 2017's No. 28 player
Trae Young
. Porter loves playing with the sharp shooting point guard and while it isn't a certainty they will play together, they would like to make it happen.
"A package deal isn't for sure," Porter said. "But, we would really like for it to happen."
Langford sold on Spartans
The No. 17 player in the class of 2016, 6-foot-6 guard
Joshua Langford
, pulled off somewhat of a surprise when he committed to
Michigan State
a little over a week ago.
It wasn't that the product of Madison (Ala.) Academy picked the Spartans because
Tom Izzo
and his staff had done some serious heavy lifting in his recruitment. It was more the timing and that he didn't take further visits. Langford just felt the vibe on the visit and couldn't say no.
"It was the family atmosphere that stuck out to me the most," said Langford. "Once you are a Spartan you are always a Spartan. That's what is great about Michigan State is you are in a big family once you commit there."
Langford has been able to stand out at SC Select 30 because of his physicality. He seems to play better the more physical the game gets. He didn't mind going up against tough defenders like
Notre Dame
's Demetrius Jackson and was engaged and actively participating in even the most basic drills.
He looks like the kind of guy that Izzo and his staff have had success with and said his goal is to win a national championship as a freshman. Already in the fold with big man
Nick Ward
, Langford said that he's all in with the Spartans and that he's now got his eye on a pair of top 30 prospects.
"I'm going to start recruiting," Langford said. "We want
Cassius Winston
and
Miles Bridges
, so those are the guys that I'm going to start recruiting now."