PG battle highlights Gauntlet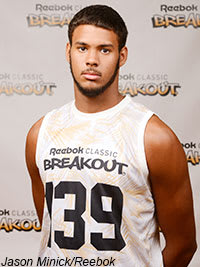 DUNCANVILLE, Texas
-- The opening of the adidas Gauntlet saw high-profile recruits performing in front of even higher-profile coaches. Many big-name coaches gathered to watch a matchup between a pair of five-star point guards from the 2016 class: Team Loaded NC's
Dennis Smith
and the Atlanta Celtics'
Kobi Simmons
.
Five-star point guards battle
The headlining battle of the opening day at the adidas Gauntlet was between Team Loaded NC and the Atlanta Celtics. While both teams feature a number of exciting prospects, there was little doubt that the showdown between Smith and Simmons was the main draw.
In the first half, Simmons held the upper hand. The St. Francis (Ga.) product had his three-point shot working for him and he played with a lot of energy. He hustled for rebounds and if he got a glimpse of the open court he took off for a transition bucket. Simmons used his lanky 6-foot-5 frame to make life difficult for Smith, who seemed frustrated in the first half by a Celtics' defense that used rotations well to keep him out of the paint, forcing Smith to settle for jumpers.
In the second half something clicked for Smith as he led Team Loaded from 12 points down at halftime to close the gap and even take the lead momentarily. The Trinity Christian (N.C.) point guard attacked the paint relentlessly, earning layups and trips to the free-throw line. He sacrificed his body willingly, throwing himself out of bounds in an attempt to save a loose ball. The most impressive part of Smith's game is his court vision; in one instance he made a spin move in the paint to avoid two defenders before passing the ball to a cutting teammate for a layup.
In the end the Atlanta Celtics took home the win but both guards showed why they are among the best in the country.
Alkins intrigued by St. John's hire
Four-star shooting guard
Rawle Alkins
was another recruit who attracted a number of coaches on Friday night; the staffs of North Carolina, North Carolina State,
Cincinnati
, Indiana and
Rutgers
all watched Alkins and the NY Rens take on Indiana Elite.
But Alkins is expecting another head coach to watch him later this weekend: New St. John's coach Chris Mullin.
"He has pro connects, NBA connects," Alkins said about the hire. "I don't know if he's a good coach but he was a great player. He probably can transform that into coaching."
Alkins had an off day against Indiana Elite. His jumper was falling but the Christ The King (N.Y.) shooting guard did not move well on offense without the ball in his hand, often settling along the perimeter waiting for the ball to find its way back to him. Alkins' energy on defense was low in the first half but it picked up in the second as he and the Rens attempted a comeback. At one point, Alkins flew in to block a layup attempt, nearly hitting his head on the backboard in the process.
In addition to the schools in attendance, Alkins is starting to attract new interest from Duke,
Kentucky
and
Louisville
, he told Rivals.com, so expect to hear more from him in the near future.

Four-star center
Nate MorrisClick More Friday notes from the GauntletHere
to view this Link. played great defense for the Dallas Mustangs on Friday night. Morris showed a lot of maturity when contesting shots, going straight up to avoid giving up free throws. The Lancaster (Texas) product has a collection of post moves but did not see many plays run through him on offense. He still found opportunities to score by crashing the offensive glass or earning trips to the free-throw line, from where he has a nice stroke.
The rising senior will see an increase in opportunities at Lancaster this year now that
Elijah Thomas
is off to Texas A&M. Morris is preparing accordingly.
"I need to just keep grinding it out, work on the little things to become a better all-around player so that whenever my team calls on me to do what I need to do I can be ready for it," Morris said.







Click
Here
to view this Link.