Penn-Johnson's recruitment off to the races after humble start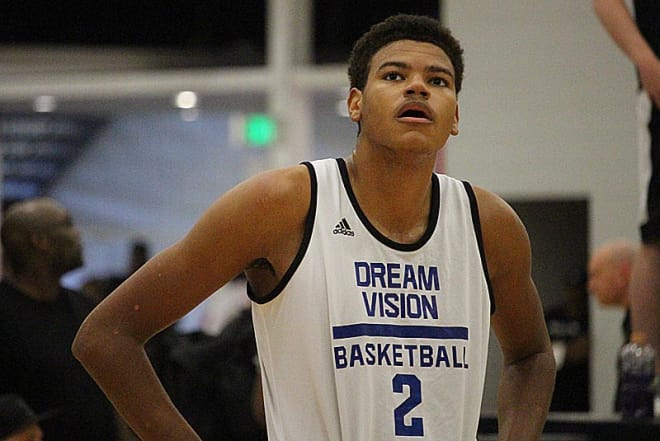 HOUSTON – The Adidas Nations Global event has brought in a number of NBA scouts to the MI3 Center, give them a glimpse at some of the top up-and-coming talent within the high school and college ranks. Few present boasted elite traits like Bryan Penn-Johnson. A 7-foot center with an above 7-foot-6 wingspan, the 2018 center has seen his stock soar in recent weeks.
Penn-Johnson gave his feelings on how it feels to now hold offers from the very best programs nationally.
"Humbling, a little bit," he said. "I have worked so hard for so long to not have any recognition or success but to have it lately, it has been great."
Entering his final year of high school ball, the Rivals150 center rattled off the schools in contention.
"Kansas, Wichita State, and Washington; again, Washington has been there the whole time," he said. "Those three schools but also Arizona, UCLA and Kentucky has also been starting to talk to me a little bit."
IN HIS OWN WORDS
Penn-Johnson broke down four of the schools heavily in the mix.
Wichita State: "I love their coaching staff. They are real supportive and they look like a good group."
Kansas: "Kansas is Kansas, it is the name alone but coach (Bill) Self is a really good guy. He doesn't watch my games in amazement but he watches to fine tweak things. He calls and texts me about what I can do better. It is just helpful having that veteran voice.
"Their big man development has been incredible. I think all but five of their past big men that have started for them have played in the NBA."
Arizona: "Me and coach (Sean) Miller have a really close relationship. I could not talk to him for three months but he could call me tomorrow and we would still close. He is a real good guy that I have known for almost four years now; he has been real supportive."
Washington: "I love the coaching staff and I love coach Hop (Mike Hopkins). Just the energy that they bring to not just their games but to my games and their practices. Everything that they do, they do with such passion and energy. It is fun to just see them and be around them.
"They never ever sell Washington's past success but everything that coach Hopkins talks about is more of what he had at Syracuse than about Washington. He is more about, okay, we know what the school has, but what can I push through and accomplish."
WHAT'S NEXT?
Penn-Johnson has not set up any visits just yet, though he does have an idea of how he would like his recruitment to play out from here.
"I will have my official visit list set probably around middle September, or even the beginning," he said. "I will take my visits in November and probably commit sometime around Christmas."

RIVALS' REACTION
There is still some time to go with Penn-Johnson but it is impossible to teach size and length and difficult to force an incredible work ethic, all of which he exhibits.
The 7-footer continues to improve as the lefty is set for a commitment before the calendar year finishes. Kansas, Wichita State and Washington all sit in a prime spot, though the Huskies may be the leader currently.