Peach Jam: Newton leads Team Final upset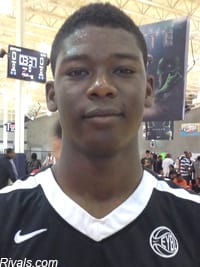 NORTH AUGUSTA, S.C.- The events in the Augusta area rolled on Saturday. At Nike's Peach Jam, an inspired Team Final squad led by Ja'Quan Newton knocked off the tournament favorite Houston Hoops, while at the Peach State Classic Doral Moore was one of many impressive prospects playing for the Atlanta Xpress 16 and under team.
Newton leads Team Final to huge win
The way the Houston Hoops were playing through the first three days of Nike's Peach Jam, it was hard to see anybody else winning the title. Led by the incredible play of five-star wing
Justise Winslow
the Hoops looked ready to take on and conquer any challengers. That message never made its way to Philadelphia-based Team Final and its leader,
Ja'Quan Newton
.
Pound for pound one of the toughest players in America, the 6-foot-3 point guard from Philadelphia (Pa.) Neumann-Goretti continued a run of fantastic play that started at June's NBPA Camp and went through last weekend's LeBron James Skills Academy. While Newton was fabulous, he wasn't alone in making plays as Team Final put together an incredible defensive effort and played together as a unit.
No. 19 in the class of 2015, 6-foot-5 shooting guard
Malachi Richardson
didn't shoot the ball with type of accuracy he usually does from deep. However, the junior to be stepped up to the challenge of defending one of the nation's most physical players in Winslow. Yes, Winslow ended up with an impressive 19 points, 10 rebounds and four assists, but the Houston wing had to work his tail off to get there because of Richardson's inspired play.
Villanova
-bound four-star
Mikal Bridges
was also big. He hit three big jumpers from deep including a huge one late in the game after the Hoops had cut a double digit lead to just two during the waning moments. Everybody else played smart, crashed the glass and did their job.
But let's get back to Newton for a minute. He finished with 22 points, four assists, three rebounds and four steals. The thing we've learned about him is that he gets to places off the dribble by dragging defenders and that he seems to step up and make big plays at big moments. Those are traits that any coach would want, and they are traits of an elite player. Elite is what Newton is striving to be.
"I think that's just me trying to become somebody that is an elite player," Newton said of his play. "So, I have to go out there and do elite things when it matters. It feels good to play well and get that win."
When asked which programs were coming at him the hardest Newton mentioned
Minnesota
, Villanova,
USC
,
Oregon
,
Miami
,
SMU
,
Cincinnati
and
Seton Hall
while pointing out that his mind was still on a tough game and that he could be forgetting somebody. Next for him is to cut things down and move toward making a decision.
"After July I'm going to cut it down to five," said Newton. "Style of play will be important. I like to get up and down and play in pick and roll."
Moore a major find on Saturday
During the early evening, we had the chance to catch the 16-and-under group of Winfred Jordan's Atlanta Xpress. They are a talented bunch who overmatched their opponent and systematically went about their business while dispatching a team that didn't want to come out of a zone in hopes of keeping the pace down. The pace was slow and the game went by in rapid fashion as the Xpress' deep group of talent showed what they can do.
At the point,
Terrance Phillips
is a speedy, strong and tough 5-foot-10 point guard. The pace didn't really seem to be to the three-star's liking, but he listened to his coaches and did a great job of being vocal with his team. His game has some of the feel of 2014 four-star
Lourawls Nairn
because of his top end speed. The No. 76 player in the class of 2015, combo guard
Lamonte Turner
was burning up the nets from deep. He's likely more of a point guard, but with Phillips manning the point and facing a zone defense, he was happy to go to work on the wing and stretch things out.
The game also provided a first look at talented 6-foot-6 wing
Danjel Purifoy
. He's got a big reputation in the South and the reason was easily evident. He didn't go off in the game, but he showed high-end slashing ability and looks like one of those players who will do a little bit of everything whether it be rebounding, defending or finishing in transition. He'll be a cinch to enter the rankings in the four-star range after the summer and mentioned offers from
Alabama
,
Auburn
,
UAB
,
Michigan
and
Georgia
.
The biggest find, though, both literally and figuratively was seven-footer
Doral Moore
. At the very least he looks to be like a high-end four-star if not a five-star prospect. The big man can run the floor pretty well, he has good hands around the hoop, looks very good hitting a 12-foot jumper and has a nice jump hook. On top of that he's a big-time shot blocker. And though he's not hugely productive just yet, big guys take more time to develop, and he looks to be just scratching the surface of some major potential.
"It was like my seventh game in the last few days and my knees are starting to hurt and I'm getting tired," said Moore. "I've just got to play through it and keep working hard to get better."







Click
Here
to view this Link.
[rl]