Peach Jam Chatter: Top prospects weigh in on toughest competitors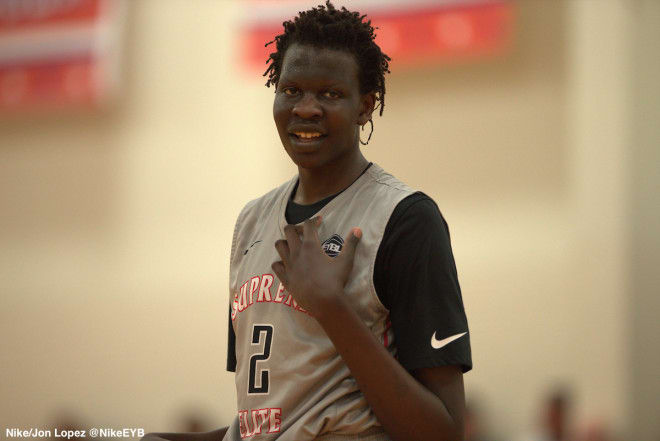 NORTH AUGUSTA, S.C. – Making it to Peach Jam is the one goal every EYBL team has during the season. If you're lucky enough to be one of those 24 teams to make it, you know going in the competition will be tough.
Rivals.com caught up with a few of players at Peach Jam to get their thoughts on the toughest competition plus more from the weekend.
WHO IS THE TOUGHEST GUARD YOU'VE FACED THIS EYBL SEASON?
"I went up against Javonte Smart last night and he played really well, I wish I could get that game back and go head-to-head with him again. Cole Swider was also pretty tough to guard since he's 3-4 inches taller than me so he was a good challenge." -2019 guard Tyrese Maxey
"The hardest player I've ever had to guard is Cole Anthony. He's just very explosive and athletic. Just staying in front of him is very difficult." -2018 guard Keshaun Saunders
"Tyrese Maxey busted us pretty bad. He's young and that dude is good." - 2018 guard John Newman (Clemson commit)
"Coby White for sure. I have to face him here in the EYBL and I just saw that dude at NBPA. He's a tough competitor." - 2018 guard Antoine Davis
RECRUITING BREAKDOWN: Maxey is picking up offers left and right this season and still has a year before he has to make any kind of decision. Kentucky, Michigan State, UCLA and Villanova were all watching him this weekend and are close to offering.
Anthony is the best point guard in the 2019 class and is very quiet about anything surrounding his recruitment. Expect a handful of bluebloods to be involved once he starts opening up about his process and taking visits.
White is committed to North Carolina, Smart is headed to LSU and Swider recently committed to Villanova.
AS A GUARD, WHO'S ONE OF THE BEST FORWARDS YOU'VE PLAYED AGAINST?
"If you want me to say Marvin Bagley I will but that's stating the obvious. That dude is a pro and unguardable." -2018 guard Will Dillard
"Vernon Carey. I'm always trying to find ways to go around that guy. He's good." -2019 guard Cole Anthony
"I played against Francis Okoro and he's a monster. I went in the lane and deflected off him and it kind of surprised me. He's a strong defender." -2019 guard Tyrese Maxey
RECRUITING BREAKDOWN: Bagley is the No. 1 prospect in the country and has a top six of Arizona, Duke, USC, UCLA, Kansas and Kentucky. He has official visits already set for Duke, Arizona and USC so they seem to be in a good spot.
Carey is one of the top players in the 2019 class with a bunch of early impressive offers including Baylor, UConn, Louisville and USC, with Duke and Kentucky showing interest.
Okoro is from the 2019 class and already holds early offers from Illinois, Missouri and Vanderbilt with plenty of others to enter the mix as he begins his junior year of high school.
AS A FORWARD, WHO'S ONE GUY AT YOUR POSITION THAT'S SURPRISED YOU?
"That one guy Darius Bazely from Meanstreets. Where did he come from? No seriously, he's good." -2019 forward Tyreek Smith
"Jeriocle Hellems has been having a really good tournament. He's stepped his game up for sure and a lot of people are starting to take notice." -2018 forward Emmitt Williams
"Bol Bol. He's so long and his shot blocking is crazy." -2018 forward Jontay Porter
RECRUITING BREAKDOWN: Hellemes had one of the best tournaments out of anyone. Missouri and Illinois offered over the weekend and he had Indiana and Wake Forest sitting courtside watching his games.
PREDICTIONS: Being that Hellemes is from Missouri, I think he stays close to home and heads to Missouri. Bol and teammate Shareef O'Neal are inseparable. Once they started playing on the same EYBL team, it became apparent that they are one of the most dynamic frontcourt duos in the league. I think this will translate over to the college level and we'll see Bol join Shareef at Arizona.
WHICH GUARD IS DIFFICULT FOR YOU TO GUARD AS A BIG?
"Darius Garland. That dude is way too quick." -2018 forward Jalen 'Sticks' Smith
"I mean, you gotta respect Zion Harmon. He's an eighth-grader playing up in the 17Us!" -2018 forward Matthew Mayer
"Tre Jones. And have you seen how high he gets up on his jump shot?" -2018 forward Taeshon Cherry
RECRUITING BREAKDOWN: Garland just picked up a Kentucky offer over the weekend but it might be a little too late to get involved with Duke, Vanderbilt and Indiana.
PREDICTIONS: Most think it's a race between Duke and Vanderbilt. I think Garland ends up at Vanderbilt and Jones follows in his brother's footsteps to Duke.
Harmon is way too young to start making predictions but it can never be a bad thing getting all this exposure playing in front of these college coaches. Expect big offers to come in early for the 2021 guard.