Pangos: Saturday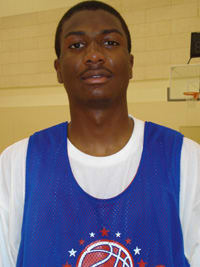 In the afternoon game, he went for 20-plus points and hit a game-winning hit with less than a second left on the clock. Outside of the points and rebounds, Franklin is a natural vocal leader that is sincere in his encouragement and motivation. Players are responding to him and it's been fun to watch the Texan in action.
Once he tightens up his ball-handling skills and goes to his athleticism more, Snaer's offensive package will be one of the best in the West, if it isn't already.
As a shooter, Hill is streaky but when it mattered, he hit the big bucket. Hill peppered in enough three-pointers to keep people honest and he dug down deep for some tough scores in the midrange.
Williams was in a zone in a big time, confidence snatching victory. The 6-foot-2 guard showed off great speed, great passing and good to great shooting in the tussle. Williams made quick friends with Reed, who was dangerous from deep and ready to score at the rim.
Both had it dialed in for 20-plus points. Williams excelled at the point while Reed shined at the two. Both were amongst the best at their respective positions on Saturday.