Pangos: DeLaurier and Heron deliver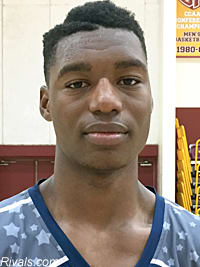 CARSON, Calif. -- It's not unusual at major events for players to fall into the trap of thinking that they have to go one on one to show they belong. Saturday
at the Pangos All-American Camp, there was no shortage of players running the "do him" offense but rising seniors
DeLaurier and Heron deliver
After spending the past few days in Colorado Springs at the USA Basketball 16U Trials, it was expected that the style of play at Pangos would be a bit more loose and less organized. That's just the nature of exposure camps. Luckily, just when things looked to be getting a little bit too loose, rising seniors
Javin DeLaurier
and
Mustapha Heron
were there to save the day.
One of the fastest rising players in the class of 2016, the 6-foot-8 Montgomery showed why he will soon be making a big rise up from his current slot of No. 117 in the 2016 Rivals150. Already No. 22 in the class, Heron
lived up to his billing as one of the top shooting guards in the country.
Since he's one of the hottest prospects in the country, we'll start with DeLaurier.
Everything starts with his motor and relentless will to compete on both ends of the floor. He seems to always
win 50-50 situations on loose balls, runs the floor and plays defense on every possession.
While his motor is certainly a strength, we have to be careful to not overlook how much DeLaurier's skills have improved. A forward who can play the four or the three, DeLaurier has significantly improved his jump shot, passes very well and is in constant motion when he doesn't have the ball.
There's still plenty of room to add strength to DeLaurier's lean frame and he doesn't seem to be anywhere close to reaching his ceiling. Thanks in large part to his play with Team Loaded Virginia during the two live periods in April, DeLaurier is now swimming in scholarship offers.
Texas
,
Florida
,
Baylor
,
Vanderbilt
,
Xavier
,
Cincinnati
,
Wake Forest
,
Boston College
,
Georgia Tech
,
Clemson
,
Miami
and
Virginia Tech
have all offered. He says that he will look to cut things down to at least eight after July and then decide on his five visits from there.
As for the style of play in camp, DeLaurier said that he didn't travel across the country to play pickup ball.
"I've been to a lot of camps like this and it can get a little out of control," DeLaurier
said. "In that type of setting I feel like nothing gets achieved. There is no point in coming all the way out here to play like that so I make sure to play the game the right way."
Heron was also busy playing the game the right way.
Known since early in his high school career for his ability to overpower opponents, Heron is still a power player. The southpaw takes and delivers bumps while finishing plays and is always going full speed. Now, he's added a strong skill package to go along with his power and athleticism.
Heron says that he loves
James Harden
's game and you can see some similarities in style. He loves to pull-up for jumpers, is a crisp passer off the bounce and he hits the glass like a bigger player. Most notably, Heron has improved his game when heading to his off, right, hand and he seems to have much more trust in his jumper.
The way he played in April and the way he played on Saturday at Pangos, Heron is going to be under serious consideration for elevation to five-star status and his spot in the top 25 of 2016 will be safe when rankings get updated in the latter part of June.
McCoy not satisfied with improvement
The physical transformation of near seven-foot center
Brandon McCoy
immediately catches the eye of anybody who hasn't seen him in a bit. This time last year, the No. 36 player in the class of 2017 was all arms and legs.
McCoy is still lean, but he's added plenty of muscle and now checks in at a lean and mean 230 pounds.
Perhaps most importantly, McCoy hasn't lost any of his quickness around the rim and he can still run the floor like a smaller player. Now that he's stronger his power moves to the rim have a lot more impact and he's capable of pushing people out of position as a straight up defender and he can pick his way through traffic to block shots from the weak side.
Though he has clearly improved, McCoy isn't at all satisfied with where he's at and thinks there's much more room for improvement.
"The strength helps me out tremendously," he said. "I feel like I still have a lot of room to get even stronger. My footwork has gotten much better but I think I have lot of room to improve in everything. People tell me that I'm getting better but I don't think I'm near good enough. I'm trying to be the best player in the country."
its contact with his coaches.




Arizona commit
T.J. LeafClick
South Carolina are closely monitoring his progress.Here
to view this Link. looked like the top 10 prospect that he is in the class of 2016. The 6-foot-10 stretch four man was very aggressive attacking the basket and finished on several athletic, twisting shots in the paint. He can stroke the jumper, has a body to build on and looked like he was having a lot of fun in the up and down setting.

Often times
the guy feeding Leaf the ball was point guard
Bryce Aiken
. The No. 130
player in the class of 2016, Aiken might even be a bit smaller than his listed