Pangos All-American camp kicks off in Long Beach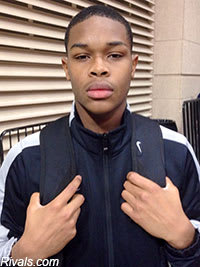 LONG BEACH, Calif. -- Each year the Pangos All-American camp serves a bridge between the spring travel ball circuit and the summer's All-Star camp circuit and live evaluation periods. On opening night, five-stars
Dorsey and Briscoe trade blows
Maybe the most intriguing matchup on opening night was the one between five-star guards
Tyler Dorsey
and
Isaiah Briscoe
. Headed to
Arizona
, Dorsey is a 6-foot-4 combo from Los Angeles who currently ranks No. 7 in the class of 2015 while Briscoe is a tough 6-foot-3 point guard from New Jersey who checks in at No. 19 nationally.
On the spring travel circuit, Briscoe made a strong case that he should be considered the best point guard in the class of 2015 and he will be moving upwards in the rankings. Early on, he took the fight right to Dorsey. Perhaps Briscoe didn't finish as well as he usually does, but he got anywhere he wanted to go and he did it anytime he wanted. Maybe most impressive early was the message Briscoe was sending defensively. A few early Dorsey drives were met by Briscoe beating him to the spot, getting his chest out using it to knock Dorsey back a few feet.
Like Briscoe, Dorsey came out aggressive. But, in the first half he lost a little bit of steam as Briscoe got off to his hot start and chatted up Dorsey and anybody else in the gym who wanted to listen. However, halftime gave Dorsey a chance to regroup and he came out and had a much better go of it in the second half. Mostly, Dorsey drove the ball and by the end of the game he had pretty much evened things out with Briscoe after Briscoe had gotten the better of him early on.
Evans announces presence
Each year, the Pangos All-American camp serves as the launching pad to national notoriety for a player or two who entered the camp relatively unknown. Based on Friday night's results, small forward
Jacob Evans
from Baton Rouge (La.) St. Michael is putting himself in position to be one of the players who sees his stock take off.
During Friday night's mostly wild and out of control play, Evans skill based game, basketball IQ and ability to use his body to create space and finish with either hand were impressive.
Evans does most of his damage attacking off the dribble where he can best utilize his size and he dictates the pace of things on the floor.
"I felt pretty good out there," Evans told Rivals.com. "My team, we can all push the ball and that's my type of playing style."
Currently an unranked three-star, Evans is going to be somebody to watch much more closely this weekend and during the summer with the Louisiana Dynasty. He is certainly a kid who has a good feel for his own game.
"I feel like I can get to the rack," said Evans. "Then along with my driving I can shoot pretty well. I'm working on my shooting more and want to be better with my three point jump shot.








Click
Here
to view this Link.
[rl]