Pangos All-American Camp: Eric Ayala nears a decision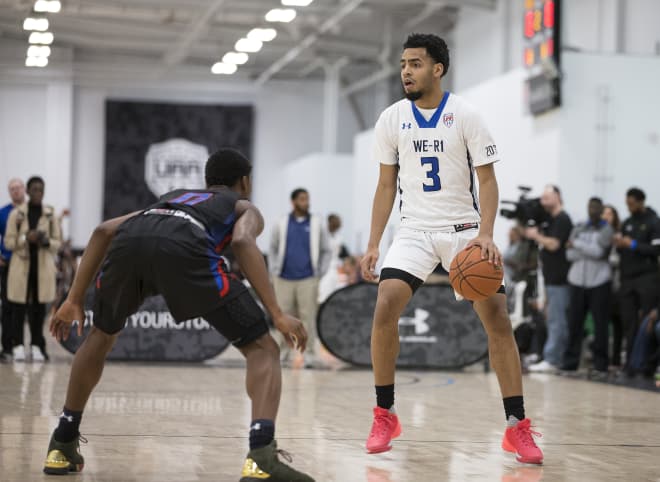 ERIC AYALA NEARS A DECISION
Much has occurred over the past few weeks that has forced a number of college programs to look elsewhere in filling out their rosters. Eric Ayala, a 6-foot-3 combo guard and top-100 prospect in the 2018 class, has heard from some of the top programs nationally about opting into the 2017 class this summer and attending college in the fall.

His reclassification decision looms as the summer months approach.
"Right now, I will probably make a decision sometime after July right after the last live period," Ayala said. "For now, it is still up in the air. I am thinking about it a lot, I just haven't pinpointed my decision just yet. I am definitely coming close to one. I am fully qualified at all aspects with my academics.
"LSU just jumped in for 2017 but mostly all of the schools that I talk to would take me whenever I would want to come out. Everybody is recruiting at a steady pace; Miami came to see me during the school year, Syracuse, Oregon, Arizona, Indiana, a lot of schools are in the mix and staying steady."
Look for an August decision from the versatile guard - Ayala could become the last piece to the puzzle for a contending program's team heading into the 2017-2018 college basketball season.
BRYAN PENN-JOHNSON EMERGES
Big men that can run the floor, finish inside and rebound the basketball have become harder and harder to find, which makes the case of Bryan Penn-Johnson that much more head-scratching. A 7-foot center in the 2018 class with a 7-foot-6 wingspan, quality feet and deft touch in the post, the Dream Vision product displayed immense upside on Saturday.

Penn-Johnson, who is still growing into his frame, discussed why he might be the nation's top sleeper heading into his senior summer.
"I didn't play AAU during my sophomore or junior years, so not a lot of people really got to see me play," he said. "I didn't play my sophomore year due to injury and didn't play last year because I transferred schools."
"I currently have 12 offers right now. Washington is in touch every day and Utah, I talk to them a lot. Washington is talking to me a lot and St. Mary's has called about every day, as well."

Kudos to Washington and Utah for getting in before everyone else, but expect a tidal waves of high-level offers to roll in within the coming weeks for Penn-Johnson. A national recruitment could be in store for the intriguing and high upside center that is Bryan Penn-Johnson.


MORE RECRUITING NOTES
One of the day's standouts, Cassius Stanley, a five-star scoring guard, discussed interest from Arizona, Alabama and UCLA. "Those are the schools that really make a strong effort to contact my AAU coaches to say that, 'Hey, we are really thinking about you,'" he said.

Frankie Policelli, a 6-foot-7, skilled and smart 2018 wing, pulled in an offer from Washington on Friday. Visits to Seton Hall, UMass and Rutgers could take place later in the month.
Darius Days plans on cutting down his list a bit after July. LSU is the latest program to begin to ramp up their attention with the top-100 forward out of Florida; Texas A&M, Missouri and Pitt are others heating things up.
Elijah Weaver is hoping to knock off a few more schools from his current list of 12 schools this month. However, Pitt, Illinois and Arizona, three schools not on his initial list, are attempting to budge their way into the mix.