Pangos AA - Sunday recap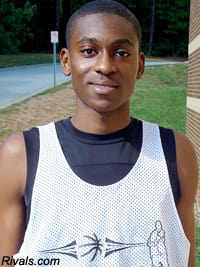 LONG BEACH, Calif. - Sunday was the final day at the Pangos All-American Camp and the camp finished off as usual with top 50 and top 20 Cream of the Crop All-Star games. Finishing off the weekend strong was high flying 2011 wing Quddus Bello.
Cream of the Crop/Sunday standouts
Quddus Bello
, SF/SG- By size he is a two, but he plays like more of a three and he is perfectly capable of compensating for his lack of size with his out of this world athleticism. Not only does the long armed Bello jump out of the gym, he's the owner ridiculous lateral quickness, balance and straight line speed. He's much improved as a ball handler, gets to the rim and is probably the most exciting finisher in high school basketball.
Quincy Miller
, PF- At times, his lack of strength is evident and he had a lot of balls stripped from him in traffic. However, what was impressive with Miller was his motor and that he didn't settle for too many deep jumpers. His quickness and skill off the dribble are major weapons and few bigs can keep him in front of them. He blocked shots, fought for some rebounds and scored in bunches like he usually does.
Rashad Muhammad
, SG- A skinny wing who can shoot the ball with range, the younger brother of 2012 star
Shabazz Muhammad
is tracking as a potential high major himself. He's got a good feel on the offensive end and looks to be growing into a long frame.
Devonta Abron
, PF- If such a stat were kept, it's a safe bet that Abron would have been amongst the camp's leaders in shots per touch. Sunday, he started making more of his shots and he's a face-up four man who has some quickness and athleticism to go along with shooting range. Better discretion with his shot selection and a little more work on the glass would make him even more dangerous.
Andre Hollins
, SG- A solid weekend was rewarded with a spot in the camp's top All-Star game. The 6-foot-2 Hollins has always been a solid defender and able to knock home jumpers, but his boosted athleticism really helps him out.
Torian Graham
, SG- A class of 2012 scorer who is athletic off of the bounce, the 6-foot-4 product of Upper Marlboro (Md.) Hillside enjoyed a fine ending to a good weekend. The windup on his jumper is a bit unorthodox, but he can knock them down from deep and it sets up what he can do off the bounce. He's a potential four-star talent.
Keaton Miles
, SF- The three-star wing from Dallas (Texas) Lincoln finished off a solid weekend by making an appearance in the top 20 game. He used his length and springs to finish on the break and block some shots. He needs some space and time to get his jumper off, but he did a nice job of connecting on some open looks.
Savon Goodman
, SF- A physically strong 6-foot-5 wing, the 2012 standout is a fantastic finisher in the lane and at the rim. He runs the floor in search of dunks, can grab a rebound and push the break and is dangerous enough as a shooter to warrant respect out to the three point line. No matter what, the Bryn Athyn (Penn.) Academy of New Church product is going to bring his lunch pail to the floor and we respect that.
Naadir Tharpe
, PG- Back on the open market after backing off of his pledge to Providence, the 5-foot-11 Tharpe is a solid floor general. He definitely gets his teammates involved first, has a strong upper body and plays under control. He's not a burner, so it's important that he keep mixing in a few jumpers to keep defenders on their heels.
Final notes from Long Beach
There's not much fancy about what
Alexis Moore
does, but the 6-foot-2 combo guard from Long Beach (Calif.) Poly is a steady backcourt guy. He plays under control, has a balanced game and is a fine mid major prospect. … We didn't really know anything about Mervyn Lindsay from Moreno Valley (Calif.) Canyon Springs headed into Pangos AA, but the 6-foot-4 lefty shooting guard made an impression with his ability to knock down jumpers from beyond the three point stripe. … After a breakout spring, Chicago (Ill.) Perspectives big man
Anthony Davis
had to shut it down early due to a hip injury. … Sacramento (Calif.) High big man Robert Garret has good size at around 6-foot-9 and he's happy to play on the interior. The rising senior is a good athlete with a solid frame, he rebounds his position, blocks a few shots and scores on put-backs and dunks. … Over the course of the weekend, 6-foot-6 wing
David Andoh
of San Jose (Calif.) St. Theresa got a lot done. The 2012 prospect is a fine athlete, plays hard and makes things happen as a transition finisher. … He's just a little guy - certainly nowhere near his listed 5-foot-10 height - but Milwaukee (Wis.) Hamilton floor general
Charles Lee
is super quick. A clever ball-handler, he was by far the most willing passer in attendance and finished a nice outing by handing out eight assists during the top 50 game. ...