Pangos AA Camp Friday: Antigua's finest
Cerritos, Calif. -- Held in Southern California, the Pangos All-American Camp has become a yearly ritual. The event has always allowed for early looks at future pros in one of the more relaxed evaluating environments. This year, camp director Dinos Trigonis has assembled as deep a field of prospects as ever, and on Friday night Antiguan big man Kevin Samuel put himself on the map.

SAMUEL STANDS OUT
Since his arrival in Houston from his home in Antigua around a year and a half ago, class of 2017 big man Kevin Samuel has been building his profile.
He's become pretty well known down in Texas and college coaches have done their homework with programs like Baylor, Texas A&M, Houston, TCU, SMU, Kansas State, Sam Houston State, UCLA and Connecticut making scholarship offers. At the Pangos camp on Friday night, he got a chance to show the assembled scouts what he can do.
Because camp play in a setting like Pangos is dominated by guards, big men like Samuel don't get a chance to put up big points. However, when a guy is 6-foot-10, runs the floor very well, blocks shots and rebounds at a high rate in and out of his area like Samuel did, you don't have to score.
He's clearly a legitimate high major big man and will certainly be in consideration for the 2017 Rivals150 when we update it later in June.
"I think I did pretty well and showed what I could do," said Samuel of his Friday night run. "It's fun to play against and with all of these great players that I've read about."
Samuel said that he's just starting to do what he can to read up on the programs recruiting him and that he's in no rush to make a choice. For now, he's just continuing to adjust to ball in the United States.
"You have a lot more good players here than I did back at home," said Samuel. "I feel like I'm doing good and that I've adjusted pretty well."

MESS WITH BEY DAY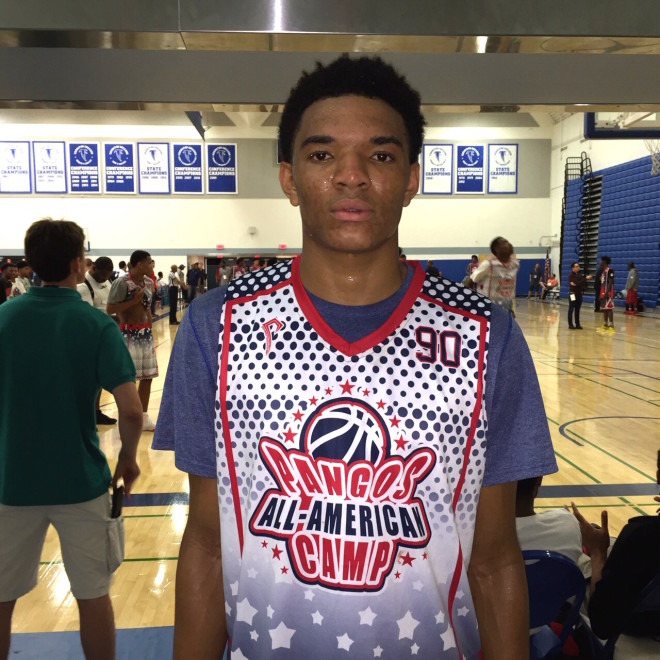 Before everything is said and done with the 2017 class, things are going to get interesting for 6-foot-7 forward Tyler Bey.
Currently an unranked three-star prospect from Las Vegas who attends school at the Middlebrooks Academy in Los Angeles, Bey is the perfect example of a big-time athlete looking to transition into a high-level basketball player.
Friday night he ran the floor, showed that he could play above the rim, hinted at promise as a high-level defender and showed an improved jump shot, draining a smooth looking three pointer.
Bey is one that we want to watch closely this summer to see how much more he develops, but his recruitment has certainly picked up, with him scoring offers from Colorado, Arizona State, San Diego State, Utah, Washington State, Wyoming, Tulane, Tulsa and Colorado State, among others.

MORE FRIDAY NIGHT NOTES
Though Pangos Camp is not an open event for NCAA coaches, a pair of Pac 12 assistants were on hand to watch their sons. Oregon State's Stevie Thompson was watching his four-star shooting guard son, Ethan Thompson, while Michael Porter Sr. of Washington was watching 2017's No. 2 player, Michael Porter Jr., and four-star forward Jontay Porter, who has already committed to the Huskies for the class of 2018.
Currently ranked No. 42 in the rising senior class, Thompson put on a show shooting the ball. He's a patient and polished scorer who lacks bulk but makes up for it with clever play and skill. Playing on Thompson's team was Jontay Porter, who showed off his soft touch to three point land as well. Playing alongside another Washington target in top-30 shooting guard Charles O'Bannon, Michael Porter put on a show of skill and athleticism. His drives and O'Bannon's jump shooting were pretty much unstoppable. Thompson and Porter both say that they are open to playing at other programs and Porter even has a top five of Washington, Oklahoma, Indiana, Missouri and Virginia. However, it would still be a surprise if Thompson doesn't end up at Oregon State and Porter at Washington.
A pair of class of 2017 bigs from Arizona, 6-foot-8 power forward Nigel Shadd and 6-foot-10 center Malik Ondigo, are intriguing. Shedd is a solidly built and tough three-star prospect who plays with good energy. Ondigo was originally in the class of 2016 but will do a year of prep school. He's a long strider who can really move in transition, has bounce around the rim and a body to grow on. Among the programs to indicate they'll watch the duo in July are USC, Arizona State, Colorado, Wake Forest, Missouri, Georgia Tech, Baylor, SMU and Wichita State.
Based on where he is production wise, we probably went a little high on Deng Gak when we inserted him into the 2017 Rivals150. He's currently No. 31 overall in the 2017 rankings, but he did show some flashes on Friday night. Gak was maybe the best big in the building running from rim to rim and he was active on the glass and supplying good energy for his teammates.
He originally committed to North Texas for the class of 2016, but instead high flying small forward Curtis Hollis is going to take a year of prep school and is moving to the class of 2017. He's long, quick in transition and loves to attack the rim. He's had some big games of late in Nike's EYBL and he backed those up with a solid first night at Pangos. His most recent offer came from James Madison.
We feel good about the decision to include Hasahn French in the 2017 Rivals150. Standing 6-foot-6, he's pound for pound as tough and rough and tumble as they come. He plays with a mean streak, doesn't back down from anybody and is very productive for a somewhat undersized four man. Rutgers, New Mexico and Seton Hall are among his more recent offers.