Pangos AA Camp: Five-star Xavier Foster knows his strengths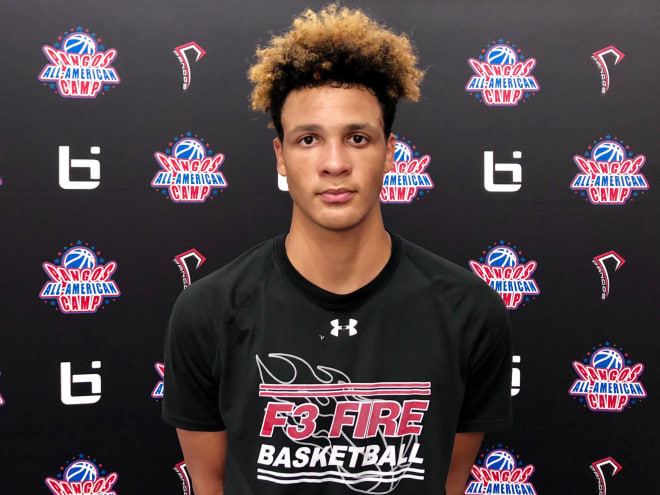 CERRITOS, Calif. -- Give five-star big man Xavier Foster a lot of credit, he's figured out what works for him and he goes out and does it.
A 6-foot-10 center from Iowa who ranks No. 20 nationally in the class of 2020, Foster holds offers from the likes of Iowa, Iowa State, Creighton, Baylor, Illinois and Texas A&M to go along with interest from Kansas, UCLA, USC and others.
That interest revolves around his size, athleticism, skill and commitment to playing hard all the time. Even at Pangos All-American Camp where big men aren't always a focal point.

"I really play well with my teammates and getting stops on defense," said Foster. "I try to outplay the other team and want it a little more. It all works out when you play hard.
"Me and my dad were talking about how if I get rebounds early in the game I'll start getting into the flow a bit more and get touches and then I'm more confident on offense. It's shown through the years that the more I rebound the better I am on offense."

IN HIS OWN WORDS
To date, Foster has taken unofficial visits to Iowa, Iowa State and Kansas and he broke down each of the school's pursuit of him.

Iowa: "I really like Iowa. I feel like i can relate to the coaches because I know their kids and stuff and we play together sometimes and little things like that."

Iowa State: "I've been to the office and gym and stuff like that but haven't toured the full campus. My dad does a lot of the talking with them."

Kansas: "It was a crazy visit we were at Late Night in the Phog with like Zion Williamson and all of them. That was crazy. They have a great fanbase."

RIVALS' REACTION, WHAT'S NEXT?
After he finishes up play at the Pangos Camp this weekend, Foster will take unofficial visits to USC and UCLA on Monday.
The way things stand, it figures to be a fight to pull him out of the state of Iowa but it's also very early. Foster has made it clear that his parents are handling most of the contact with coaches and that he's going to lean on them heavily when the time comes to narrow things down and that's at least a year away.