Paige enjoys breakout performance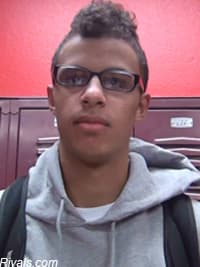 DUNCANVILLE, Texas --
The final two weekends of April are always of immense importance on the grassroots circuit. During those two weekends, college coaches can watch players around the country in any number of events. On Friday night, the Adidas Exclusive Run kicked off at the Duncanville Fieldhouse and junior guard
Jeremiah Paige
of the Colorado Hawks had a breakout performance.
Big night for Paige
If Friday night is any indication of what he's capable of, keep an eye out for Paige this spring and summer. The 6-foot-2 junior combo guard from Aurora (Colo.) Rangeview flat out put his Colorado Hawks squad on his back and willed it to a win over a very talented Compton Magic Select group.
The Magic Select are basically a 16-and-under team playing up in the 17-and-under division, but Paige showed the younger guys no mercy. He gave it to them off the bounce, using his outstanding quickness to get into the lane and finish or create for others. Then he unleashed his confident jumper from all around the perimeter. This is a kid who showed flashes last spring and summer, but he really looks to have taken his game to the next level, and colleges are taking notice.
Another Hawk who impressed on Friday night was 6-foot-6 combo forward
Treyvon Andres
. The lefty is a big-time athlete who explodes to the rim, and he was chasing down one play after another.
Francis, Keith key Florida Elite
Clearly, Florida Elite was ready to play on Friday night. The crew from the Sunshine State came out and blitzed Dream Vision early before holding on late for a win. Much of its success had to do with the play of junior guards
Brandon Francis
and
Eddie Keith
.
They are both physical players. Francis is a 6-foot-5 shooting guard from the Dominican Republic who plays at Jacksonville (Fla.) Arlington Country Day. He's a strong kid who has a good-looking stroke and a high level of skill to go with his strength and willingness to play with physicality. Rated as a three-star prospect, Francis will be in contention for the 2014 Rivals150. He has a wide array of interest and offers coming from
Illinois
,
Minnesota
,
SMU
(head coach
Larry Brown
watched), Kansas State,
Ole Miss
,
South Carolina
, Cincinnati,
Indiana
,
Florida
,
Rutgers
,
West Virginia
,
Washington
and others.
While Francis is pretty well known, Keith was a pleasant surprise. A product of Orlando (Fla.) Edgewater, he is a powerful two guard with a nice 6-foot-4 frame and a versatile offensive game. He will score off the drive and from midrange, and you have to respect his deep jumper. The three-star prospect mentioned offers from Jacksonville, Florida Gulf Coast (old staff),
UCF
and
Florida International
(previous staff) to go with interest from
Miami
,
USF
,
Georgia
, George Mason, Kansas State, St. John's and
Alabama
.
Celtics-Neysmith get hard-fought win
One of the more storied programs in grassroots basketball history, the Atlanta Celtics have two teams competing in the 17-and-under division of the Exclusive Run. On Friday night, we focused on their Horace Neysmith-coached squad as it pulled out a hard-fought victory over the Wisconsin Playground Warriors. It came in thrilling fashion.
After the Celtics gave up a five-point lead late in the game, 2014 shooting guard
Andre Chatfield
got the ball in the open court with a somewhat clear path to the rim. Instead of heading to the hoop, the 6-4 junior pulled up from the right side and swished a 3-pointer with 3.7 seconds left to give the Celtics a three-point win.
A three-star prospect, Chatfield is a smart player with a pretty stroke. He shrugged off a slow start and was huge down the stretch. He mentioned that he has offers from
Auburn
and
Mississippi State
. While he hit the key bucket, he wasn't alone in making plays. In fact, he's a bit of an elder statesman on the team and a sophomore and two freshmen also stood out.
Leading the way for the Celtics was 6-foot-7 sophomore combo forward
Kaiser Gates
from Alpharetta (Ga.) St. Francis. A newly minted four-star prospect, Gates was hitting corner 3-pointers, getting on the glass and showing a well-rounded game. Among those he's hearing from early are Alabama,
Virginia
, Auburn (offer), Georgia (offer), Kennesaw State, Georgia Southern and George Mason.
Freshman forward
Braxton Blackwell
is on his way to being a high major. At about 6-foot-6, he's tough to pencil into one position. His body is more of a power forward's, but he has a very high skill level. Time and again, he drove out of the high post and found teammates with slick dishes. He mentioned that he speaks regularly with his uncle Ralph Sampson and is hearing from the likes of
North Carolina
,
Tennessee
,
Memphis
,
Cincinnati
, Florida, Auburn, Virginia,
LSU
,
Vanderbilt
and Providence.
Also, keep an eye out for Gates' high school teammate
Kobi Jordan-Simmons
. A 6-foot-4 playmaker, the slender freshman guard is slick with the dribble. He has a nice floater and is another outstanding passer who can use a tremendous first step to blow by defenders. Look out as he adds strength.
It wouldn't be right if we didn't mention the play of
Cameron Ward
for the Wisconsin Playground Warriors. The 6-foot-1 combo guard was outstanding. The lefty smoked home one 3 after another whenever he got a look and played with loads of toughness for a skinny kid. We didn't know much about the Marshall (Wis.) High product coming in, but we look forward to catching him again down the road.
Friday night's notes and notables





Click
Here
to view this Link.
[rl]