Pac-10 offer would be big for Jackson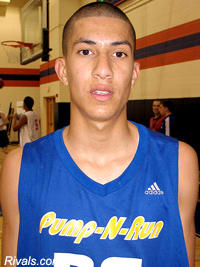 Jackson said this past weekend at the adidas Super 64 Tournament in Las Vegas that he visited Stanford for its camp this summer and that he would be incredibly interested if the Cardinal offers.
"I went up to Stanford camp and it was really nice," Jackson said. "I talked to Johnny, he came to my school a couple times and I'm really interested in Stanford. I don't know where I'm really looking at right now, mid-major, if I could go Pac-10 that would be great.
"(Stanford) would be a serious consideration. The place is really nice. The campus is beautiful. Johnny Dawkins is a great coach and I really look up to him. He knows what he's doing. Just the education and the basketball, that's where you can get it all."
There have been some other changes with Jackson's recruitment. He said a trip to Harvard will probably happen once the summer schedule dies down which could be in the next few weeks.
"(Floyd) seemed like a really intelligent guy," said Jackson, who would like to make a commitment before his senior season. "I liked him a lot when I was talking to him on the phone."