Oubre, Jones shine at AAU Gold Super Showcase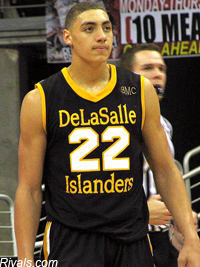 ORLANDO -- The first night of the AAU Gold Super Showcase was short-lived, with only three game sessions. But it was full of action, as some of the top travel teams from around the nation descended on Disney's ESPN Wide World of Sports.
The night was highlighted by a live television matchup between two of Nike's most elite clubs, and the Howard Pulley Panthers out of Minnesota grinded out a narrow victory over Boston Amateur Basketball Club.
Here are some of the stories that highlighted night one in Orlando.
Sharpshooter
After suffering a surprising loss in the Nike Peach Jam that cost them their first EYBL crown, the Houston Hoops seemed to have made a vow to not lose another game the rest of the summer. Preaching an upbeat and team-over-self approach from their bench, the Hoops stormed out of the gate in the opening game on Wednesday night, dominating the Atlanta Xpress in a game that ended with a margin of more than 30 points.
While the Hoops' trio of five-star prospects all shined in the blowout win, no one was more efficient as a scorer than Richmond (Texas) Bush wing
Kelly Oubre
.
The 6-foot-6 shooting guard, who can also comfortably play the small forward position, has been one of the most talked-about players this summer, after showing out at the Peach Jam and then the Nike Global Challenge last week in Washington D.C.
Wednesday night was no different as Oubre knocked down shots from behind the three-point arc with confidence, showed the ability to handle and finish in transition and played with his normal level of energetic and positive attitude.
Also an athlete who can find openings off the ball, Oubre showed a good understanding for the spacing game, beating his man on backdoor cuts and finding openings in the corners to get great looks at three-pointers. Finally, the five-star efficiently attacked the offensive glass, finishing multiple attempts through contact against physically inferior defenders.
After the game, Oubre talked about the latest in his recruitment, specifically what schools are making the biggest push.
Admitting that he was somewhat drawing a blank on naming his complete list, Oubre mentioned
Kentucky
,
Kansas
,
Georgetown
,
Connecticut
and
Florida
as schools that he has had contact with the most in the last few weeks. Now that all of the top programs in the nation have decided to make him a priority target in the 2014 class, Oubre is faced with the task of trimming his extensive list.
"The next step is sitting down with my dad and talking about which schools I can see myself playing at for however many years I play in college," said Oubre.
"I have to find the place that the coach can develop me to be the best that I can be. Where can they develop me to help me get to the next level?"
With more and more class of 2014 stars beginning to form recruiting alliances and discussing attending the same schools as package deals, the Houston-area native said that he is not exempt from those discussions.
"A couple big guys like
Cliff Alexander
and
Myles Turner
have all talked about going to school together, since most of the same places are recruiting all of us," said Oubre. "
Stanley Johnson
is another guy I've talked about playing with, but I'm not part of any type of package deal."
While most of Oubre's offers occurred well before the month of July, one school that recently decided to pull the trigger on the high-scoring wing was the Kentucky Wildcats. With his recruitment still wide open to any school who is willing to offer, Oubre is very intrigued by what coach
John Calipari
and his program have to offer.
"Coach Calipari called me shortly after the Peach Jam and told me that I now have an offer on the table," the five-star said. "Since then he has been keeping in close contact with my dad and me."
"Coach Calipari told me that he can see me developing into a pro. He's the type of guy that doesn't even really like college players, he likes pros. He said if I keep working then I can get to where I want to be. He told me that Kentucky isn't for everyone, he expects guys to come in and work their hardest every day. Nothing is given to anyone, you've got to earn it."
At this time, Oubre has no plans for when he will finalize his decision and also reports that he has yet to make a final decision as to when or where he'll take official visits.
Win First, Score Second
Playing in Wednesday's feature game, one that was televised to a national audience, five-star Apple Valley (Minn.) point guard
Tyus Jones
understood the opportunity that it was in front of him. As the nation's most highly regarded passer, Jones had a chance that few do: He got to show the entire nation in one game just how well he can move the basketball around the court. When the final buzzer sounded, and Jones' Howard Pulley Panthers were the victors, the verdict was that the floor general had passed his test with flying colors.
Jones exploded for 20 points and eight assists in the win, showcasing some top-level speed burst in transition as he drove to the rim to finish, as well as his signature poise as a passer. The 6-foot point guard excels at timing his passes in half-court penetration, off of the ball-screen or in the full-court, and generally just seems to see plays five seconds before anyone else on the floor. A patient scorer, Jones didn't force many shots in the Panthers offense, instead deciding to work the ball around and look to penetrate and kick to open teammates for jumpers.
"I wanted to show the nation that I'm a complete point guard that I can run my team," Jones said after the win. "I tried to make big plays when it counted, but more importantly I wanted to make the game easy for my teammates."
"It was a great experience, we had a lot of fun playing on ESPNU. I think you could tell that the intensity was cranked up on our end, and we were lucky enough to pull out a win."
With head coaches from Kansas,
Michigan State
and
Minnesota
watching, as well as assistants from
Ohio State
and
Baylor
, the five-star is trying to avoid the constant questions about where he'll be attending college, instead trying to focus on leading his team to wins in the final AAU tournament of his career.
"I try to focus on my game and locking in mentally, but you definitely notice the guys in the crowd this time of year. They've all told me when they're coming, which helps a lot though."
With his willingness to discuss the packaged recruiting deal between him and 2014 Rivals150 headliner
Jahlil Okafor
, Jones said that the pressure is actually diminished some, because schools have at least some idea of what he is looking for in a program.
"All the coaches know that we're doing the package deal and that they don't really need to discuss it," said Jones. "Right now they're more focused on recruiting us as individuals."
With as much as effort as the eight remaining schools on Jones' list are putting into recruiting the point guard, they should be able to take some solace in the fact that the process is finally starting to wind down to the home stretch. In fact, the Minnesota native said that after this tournament, he's going to really begin to get serious about scheduling visits, and getting ready to make that final decision.
"I don't have any plans as of now to visit anywhere besides Baylor. But I do plan on taking the rest of my visits in the fall then hopefully making a final decision late in the fall," Jones said with a sense of relief.
It might seem like an eternity from now to those recruiting him, and fans of those programs, but it won't be too long now.
Blow for Blow
They might not have been the headliners for the television matchup between Howard Pulley and BABC, but the two prospects who stole the show on Wednesday night were four-star Minneapolis (Minn.) De LaSalle power forward
Reid Travis
and three-star Barrington (R.I.) Saint Andrews power forward
Bonzie Colson
.
The slightly undersized but hardworking and seriously skilled Colson totaled 27 points in the loss for BABC, while his opponent, Travis, finished with a game high 31 points and eight rebounds as he led his team to a signature win.
Travis got his production done through physical play. The 6-foot-8 post player finished through contact in traffic, attacked the offensive glass with intensity and generally outworked the opposition, earning unofficial game MVP honors in the win. With a slew of college coaches in attendance to watch, the buzz around the gym was that not only does Travis continue to get bigger, stronger and more athletic on the court, but he's becoming a much more consistent scorer with his back to the basket.
After the game, Travis mentioned Minnesota, Michigan State, Gonzaga,
UCLA
,
Stanford
, Georgetown and
Iowa State
as the schools who are standing out on his list the most right now.
Colson might work just as hard as Travis in the game, but the 6-foot-6 power forward prefers to start out of the short corner or mid-post, where he's equally efficient as a short-range jump-shooter or someone who can take opposing big men to the rim off of a couple of dribbles. The Rhode Island native finds ways to score around the rim using his body and the ability to finish over either shoulder, making up for a lack of explosion and length.
After the game, Colson listed
Miami
(Fla.),
Florida State
, Butler,
Notre Dame
, Iowa State, UConn and Georgetown as schools which he is seriously considering at the moment.

Click
Here
to view this Link.
[rl]