On the Bounce with Coach Meyer, Boo Williams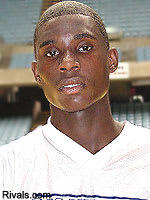 After watching 21 different 17-under AAU teams play in the 18th Annual Boo Williams Invitational Tournament, it is now time to cipher through bunches of player evaluations, news, and notes from the event. This installment of On the Bounce with Coach Meyer, Boo Williams takes a look at some impressive players participating in the event and recount some tidbits of news picked up along the way.
More in depth player updates will be available in the next four days before the RivalsHoops.com staff hits the road again the cover the Charlie Weber Event in D.C. and the Double Pump Classic and the Las Vegas Spring Showcase.
2004 NBA Draft Watch
Dwight Howard has a press conference scheduled for Wednesday at the Jordan Capital Classic where he is expected to announce his intentions of entering the NBA draft.
Al Jefferson's AAU coach Larry Stamps of the Jackson Tigers said, "Al will wait and see how he does in the Jordan game," when asked about Jefferson's intentions. It appears that Jefferson would really like to make the jump.
NBA prospects have until May 10 to declare their intent to enter the draft. If they do not higher an agent, they can withdraw from the draft by June 17 and maintain eligibility. The draft is June 24.
Young Tigers
Coach Stamps brought a 16-under Jackson Tigers team to Hampton, Virginia, and they are loaded with talent, young talent. Leading the way as the elder statesman is Andre Stephens, 6-foot-8, 220-pounds. Stephens is a big time prospect who will soon appear in the updated 2006 rankings.
There are four other young Tigers to keep in mind for future reference:
2008 prospect Jacolby Pittman is 6-foot-8 and still growing.
2008 prospect Romario Osby, at 6-foot-6 and only 13 years old, could be a superstar according to Coach Stamps.
2007 prospects Malcoln Kirklan, 6-foot-6, and J.R. Weathers, 6-foot-7, are also budding stars.
Can anyone guard him?
After watching No. 8 player in the class of 2005 Louis Williams play two games against very good teams in The Family from Detroit and Friends of Hoop from Seattle and based on the reports from his other games this weekend, no one was able to guard the Georgia commitment.
Williams was most impressive in the ways he has simplified and solidified his offensive game. There was very little of the unnecessary flash and fading away on his scoring attempts, which has characterized his game in the past. Not only did he stroke it off the pass and the dribble out to at least NBA range. When defenders rushed him, he used a nice shot fake to get by them and hit the pull up jumper and finish at the rim.
Williams is finishing around the rim with more strength, and it is scary to think how good a scorer he will become as he continues to gain physical and mental strength. He is just a naturally born scorer.
In a Gold Division quarterfinal match up against a very good and well coached Friends of Hoop team, Williams took parting some of the best back and forth action of the tournament. The flurry began late in the highly contested game with Friends of Hoop's Micah Downs driving baseline for an impressive double clutch lay up. Williams returned the favor on the next possession by executing a hesitation move around the top of the key and then storming down the lane for a big time dunk over a couple opponents. Then Downs drained a three on the left wing before Williams ended the flurry with a strong drive where he grinded his way to about ten feet from the basket and muscled a shot up over a very strong defender in Mitchell Johnson.
The last score by Williams where he muscled his way near the basket was a clear sign of the future development of this confident scorer.
These guys know how to play
Seattle's Friends of Hoop are a rare breed on the summer AAU circuit. These guys play hard, smart, and together, and they have six very good high major prospect.
The nucleus of this squad has been together for five years under the direction of former Portland Trailblazer Jim Marsh. Some of the scouts and fans thought they had walked into an exhibition game being played by Gonzaga when they saw Friends of Hoop execute their offense.
Unfortunately, the best of the six Martell Webster was unable to play. The No. player in the class of 2005 is out with an injury and is listing Arizona, Duke, and North Carolina as his top schools. He would have made a difference for Friends of Hoop in their overtime loss to a loaded and very good Georgia Stars team.
Updates on his teammates Mitch Johnson, Micah Downs, Tommy Craddock, and Spencer Hawes will be forth coming.
A Work Horse
At only 6-foot-6, but at 240-pounds, power forward Jon Brockman of Seattle's Friends of Hoop is a force in the paint. Although undersized, he is an athletic, strong finisher.
He loves to take one hard dribble to his left shoulder, where he stays low to the ground and generates power, and then rise up and shoot a soft right hand jump hook. And he is also effective going to his right shoulder, but he did not use a left hand jump hook.
He is at his best 15 feet and in. On the arc and beyond he is a little shaky with his ball handling and passing although he can put it on the floor and attack the rim.
While watching him play against the Georgia
Stars, Coach George Raveling noted, "This kid is a horse. He jus gets it done. He is undersized but bangs and rebounds.... He is just a work horse."
A Long Drink
2006 prospect Vernon Macklin might be one of the only player in this event who might actually be taller than his listed height of 6-foot-9. The No. 4 ranked player in the class of 2006 has a frame that holds a lot of potential. Macklin blocked numerous shots and ran the floor like a deer in his Gold Division quarter final game. The big man, however, has trouble putting the ball in the basket. Strength is an issue as well as a need to get more familiar with the ball.
A lot of Offers
The No. 10 player in the class of 2006 Jerry Smith already has offers from Wisconsin, Arizona, iowa, and Marquette. Connecticut and Illinois are also on his list of the guard for the Wisconsin Playground Warriors.
Names to Keep in Mind
Alade Aminu of the Georgia Stars is a 6-foot-9, 205-pound power forward who has only been playing basketball for one year. The high jump track and field star is getting better every game. Already a mid-major prospect, Aminu might be on his way to becoming a 2005 high major prospect.
Doneal Mack of the Charlotte Royals is a left handed 6-foot-4 shooting guard that can score points from behind the arc, on pull up jumpers, and with a jump hook in the post. He needs to get stronger and might buy some time by transfering and reclassifying to the class of 2006.