Oklahoma State lands grad-transfer guard Mike Cunningham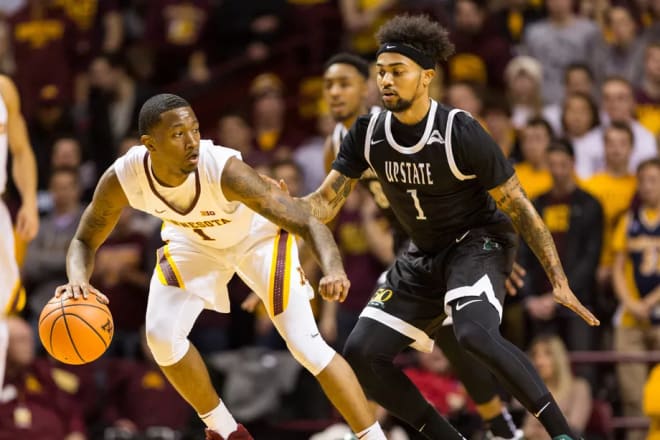 Oklahoma State filled a major hole at the point guard position with the commitment of grad-transfer guard Mike Cunningham. A native of Washington, DC, Cunningham played his first three years of college at USC-Upstate, as he should step in and plug an immediate hole in the Cowboys' backcourt.
A 6-foot-1 guard that has averaged over 13 points during his past two years of play, Oklahoma State is hoping that Cunningham finds similar magic that last year's grad-transfer, Kendall Smith, had enjoyed in Stillwater. The graduation of Smith and the out-transfer of Brandon Averette left a void on the perimeter for second year coach Mike Boynton, as Cunningham has shown that he can produce against some of the best.
While the Big 12 Conference is a giant step-up compared to Cunningham's prior league of play, the Atlantic Sun, during out of conference games against Minnesota and Georgia, Cunningham scored in double figures while finishing the year with a season high 28 against Florida Gulf Coast.
Averaging close to 14 points, three rebounds and three assists per game last season, Cunningham selected OK State over Tulane, Louisville, Western Kentucky, VCU, Nevada and Wyoming. He will be asked to facilitate first and foremost, thanks to the slew of shot makers present on OK State's backcourt. They will return Thomas Dziagwa and Lindy Waters, and will see the eligibility restrictions lifted off of Miami Ohio transfer Michael Weathers.
Oklahoma State will enroll three bigger bodies in the fall, coming in the form of Duncan DeMuth, Yor Anei and Kentrevious Jones. Their 2018 class is not done just yet as they continue to pursue top-50 guard Courtney Ramey, a late bloomer in high school senior Amir Harris, and former Fresno State commit Isaac Likelele.