Okafor retains hold on top spot in Rivals150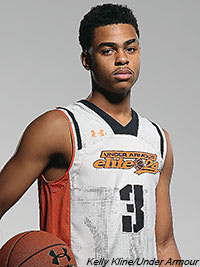 The long and hot summer on high school basketball's grassroots circuit has come to an end. After college coaches spent the majority of July chasing top players from coast to coast, those prospects are now setting up official and in-home visits where schools make their final pitches. As always, the end of the summer is a perfect chance to take another look at the
class of 2014 Rivals150
, where Chicago big man
Jahlil Okafor
continues to hold onto the top spot.
Okafor not letting go of the top spot
Many have tried, but to date nobody has been able to unseat Chicago (Ill.) Whitney Young center
Jahlil Okafor
as the top player in the class of 2014. Ever since
Kansas
freshman
Andrew Wiggins
moved from 2014 to the class of 2013, the 6-foot-11 post player from the Windy City has had a solid grip on the top spot in the class.
Okafor isn't just 6-foot-11, either. He checks in at 270 pounds, has long arms and is one of the most skilled low post players that the high school ranks have produced in the last 10 years.
Even with players hanging all over him and refs allowing opponents to hack him, Okafor is a reliable scorer who has counter moves, soft touch and an ever expanding faceup game. He rebounds, has learned to hedge and defend in space during screen situations and continues to improve his body. He also takes pride in being No. 1.
"It's not the most important thing to me, but I think about it," Okafor told Rivals.com in August about being considered the nation's top player. "I know the type of work that I'm putting into my game, and like anybody I want to be the best."
He took his first official visit to Baylor over the weekend and will next visit Kentucky on Sept. 9 for the Wildcats' alumni game. Other currently scheduled official visits include back-to-back-to-back visits to Arizona, Kansas and Duke on the weekends of Oct. 11, 18 and 25. His other finalists are expected to get unofficial visits, but those dates are yet to be set.
Top five features change
In the national top five there is only one new player -- small forward
Stanley Johnson
-- but there has been some shifting of position.
Moving up to No. 2 nationally is
SMU
-bound Emmanuel Mudiay, a 6-foot-4 point guard at Dallas (Texas) Prime Prep. Entering the summer the athletic floor general sat in the No. 3 position. However, added strength, more consistent dominance and an impressive overall floor game to go along with terrific size for his position allowed him to move up. If Mudiay continues to improve his jump shooting, he can put some serious heat on Okafor for the top spot.
Johnson jumps into the national top five at No. 3. A 6-foot-7 small forward at traditional powerhouse Santa Ana (Calif.) Mater Dei, Johnson is a powerful wing who elevated all aspects of his game in order to move up from No. 8. He is a big-time finisher in transition, can bully opponents in the post, has a fabulous mid-range game and has developed into a dangerous ball handler and jump shooter. Arizona,
Florida
, Kansas, Kentucky,
Oregon
,
UCLA
and
USC
are fighting it out for his services, but the Wildcats -- both
Sean Miller
's and
John Calipari
's -- are considered the leaders as his recruitment nears the homestretch.
Holding steady at No. 4 is another product of the Windy City and a summer teammate of Okafor's. Six-foot-9 power forward
Cliff Alexander
of Chicago (Ill.) Curie is perhaps the most powerful player in the high school ranks. He tries to tear the rim down at every opportunity and tests his opponent's manhood in the lane. He's already visited
DePaul
and is also considering the likes of Arizona, Illinios, Kansas, Kentucky
Louisville
,
Memphis
, Michigan State and others.
Tyus Jones
of Apple Valley (Minn.) High slides from No. 2 to No. 5. The slide isn't a result of any kind of poor play by the 6-foot-1 point guard. In fact, he was terrific during the summer with his Minneapolis based Howard Pulley squad. Those ahead of him, though, are just that good. Jones has long been considered a package deal with Okafor and joined the big man at Baylor last weekend. He's also going to visit Kansas and Duke with Okafor as well. Like Okafor, he will also visit Kentucky, but he will do so on his own at the end of September.
New five-stars and big movers
The latest edition of the Rivals150 sees two prospects making their way from four- to five-star status and some other big movers.
Making their way to five-star status are shooting guards
D'Angelo Russell
and
James Blackmon
. A native of Ketnucky who attends high school at Montverde (Fla.) Academy, the
Ohio State
-bound Russell used a huge summer shooting and handling the ball to jump from No. 35 overall to No. 21 nationally. Blackmon recently opened his recruitment after committing to
Indiana
before playing a minute of high school ball, and he's moved up from No. 33 to No. 23 nationally. The Hoosiers remain in play for the 6-foot-3 sharp shooter who plays for his father James Sr. at Marion (Ind.) High, but they have competition. Blackmon has visited Kentucky (where his father played), Michigan State, Louisville and
Michigan
in addition to Indiana within the past two weeks.
Making the biggest jump inside the national top 100 is 6-foot-2 combo guard
Robert Johnson
of Richmond (Va.) Benedictine. An electric scorer, Johnson used a huge summer to propel himself up from No. 84 to No. 42 nationally. He has seen Indiana and
Virginia
over the past two weekends and will check out
North Carolina
this weekend.
Finally, it's only fitting that
Jonah Bolden
makes the highest debut in the new Rivals150. After we moved Australian
Dante Exum
(who remains a five-star prospect) out of the rankings during the last round because he hasn't played in the United States within the last year, his countryman Bolden replaces him. A 6-foot-8 combo forward with athleticism and skill, Bolden will play his senior season at loaded Henderson (Nev.) Findlay Prep. Bolden starts with a conservative ranking of No. 62 overall because of limited exposure, but his inside/out game could mean he makes a big rise if he plays up to expectations during his senior season.

Click
Here
to view this Link.
[rl]