Ohio States Groce attracting talent to Columbus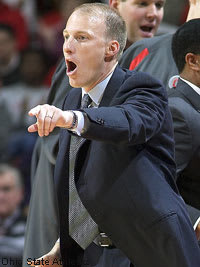 Cook, an explosive five-star shooting guard, was the first of the five prospects to commit to the Buckeyes in what turned out to be the nation's No. 2-ranked recruiting class.
Albert Powell, an assistant at Dayton (Ohio) Dunbar, originally wanted his star player to play for a black head coach in college - or at least somewhere that a black coach was on the staff. Powell is black and so is Peter Pullen, the head coach at Dunbar High.
"Call it reverse prejudice, but Daequan grew up his whole life around African-Americans," Powell said. "He'd never been outside that realm. I thought he wouldn't be able to relate to the coaches unless there was someone there that looked like him."
It took one meeting with the 34-year-old Groce, who was then working at Xavier under
Thad Matta
, to reverse Powell's frame of mind. Groce and Matta are both white.
"I got a good feeling about Coach Groce from Day One," Powell said. "He introduced me to his wife and he came off as a really caring person and someone that could relate to the issues and problems of inner-city kids. That surprised me."
After a couple more talks with Groce and Matta, Powell started to believe Xavier might be the best place for Cook, who hadn't even begun his junior year at the time.
But that summer, Matta left to take over Ohio State's program. The Buckeyes were on probation for violations which occurred under the previous coaching staff. The penalties included a postseason ban for the upcoming season – a punishment that often makes recruiting extremely difficult. Still, Groce followed his mentor to Columbus.
The coaching duo engineered a surprising 20-12 record, highlighted by an upset of then-undefeated and No. 1-ranked Illinois at the end of the regular season. Twelve days after their final game, Cook - who had already received a scholarship offer from North Carolina - committed to the Buckeyes.
The move ignited what would become perhaps the greatest collection of talent in school history. Center
Greg Oden
, the No. 1 overall recruit in the country, and five-star point guard
Mike Conley
– a high school teammate of Oden in Indianapolis - started seriously considering the Buckeyes. Oden and Conley have been good friends with Cook since eighth grade, and the trio played together on an AAU team coached by Conley's father.
Four-star shooting guard
David Lighty
from Cleveland committed five weeks after Cook. Oden and Conley followed suit two months later. Junior college transfer
Othello Hunter
rounded out the class in September.
Powell is convinced the entire group would be at Xavier if Groce and Matta were still at the Atlantic 10 school.
"If he and Thad had stayed at Xavier, I think all those kids would have gone to Xavier," Powell said. "He and Thad just have a special type of chemistry."
Michael Conley Sr., whose first meeting with Groce also came when Groce was at Xavier, deals with dozens of coaches pursuing his players every season. Conley says Groce's approach is unique - and far more sincere than just about anyone else.
"There are a lot of smooth talkers and guys that can sell real well," Conley said. "But Groce doesn't come across as a salesman. He has a certain way about him that comes off as a very honest individual and that was very important to me."
A lot of coaches don't have Groce's communication skills. While Matta and each of his assistants work as a group, it was Groce who was able to make connections with seemingly everyone involved in the recruiting process - regardless of their age.
"He played a huge role," the elder Conley said. "Assistants like him are out there watching the players more than the head coach. He found a way to relate to 17- and 18-year-old kids, 40-plus-year-old parents and the high school and AAU coaches.
"Also, as persistent as he was in following up on everything from sending letters to calling at the right time and being everywhere, you never felt he was being pushy. I don't know how he did it. Other coaches felt they had to use pressure tactics. It takes a special individual to do all that."

-- Top 25 Recruiters profiles by Rivals.com National Recruiting Analysts Jerry Meyer and Justin Young.