Ohio big man has big-time potential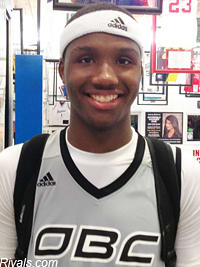 Even though he's already ranked No. 27 nationally in the class of 2015,
Carlton Bragg
has the look of a guy who is just scratching at his potential. He seems to think so too.
A 6-foot-9 forward at Cleveland (Ohio) Villa Angela St. Joseph, Bragg would be in the category of new school players. He's big, he's athletic, he has versatility and wants to play inside and out.
"Well my high school game I've always been a rebounder and I've gone up with the ball," Bragg told Rivals.com. "Now that I can shoot the ball and take guys off the dribble I've added that to my game."
It's no surprise that Bragg mentions Kevin Durant as a guy that he would like to model his game after. He's also got a similar frame and graceful athleticism, but he knows that he's still much more of a power forward and that he's got be sure he plays to his advantages with a good balance of inside and outside play.
"I'm a four trying to be a three," said Bragg. "I've still got hard work to do, I'm not there yet. If one way doesn't work you need to find another way to be active and win the game."
For now, Bragg is wide open in the recruiting process. When asked which schools have gotten the most serious with him he mentioned three but quickly pointed out that it is early and that he feels like everybody has been pretty open with him.
"Ohio State, Illinois and Indiana so far," said Bragg when asked which schools were recruiting him the hardest. "I like every college so far. They feel open to me, they keep it real. Most all of the colleges have kept it real so far.
While he wraps up his sophomore year, Bragg is just looking to enjoy himself and he appreciates the opportunities he has ahead of him. Mostly, he's just focused on improving and reaching his potential.
"I'm working on everything right now," said Bragg. "But mostly, getting stronger and my dribble is where I'm focused."