Ocean View TOC: Tuesday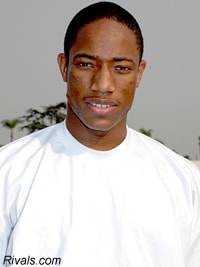 HUNTINGTON BEACH, Calif. -- After one top three national prospect put on a show on the first day of the Ocean View Tournament of Champions, the second day of action yielded an equally as impressive from another top three national prospect. Demar Derozan went for a career high on Tuesday night.
Derozan soars, Holiday shines again
In the spirit of anything you can do, I can do better,
Demar Derozan
poured in a career-high 38 points for Compton High School on Tuesday night in a 71-58 win over Knight High School.
Less than 24 hours after
Jrue Holiday
, the nation's No. 3 player, put in 40 points in the tournament opener, Derozan, the nation's No. 2 ranked player in the class of 2008, looked every bit the elite level player that he is in this game.
He stuck to his strengths – knocking down perimeter shots and attacking the glass with a vengeance using his top level athleticism. Noticeably stronger, Derozan is looking more and more like a player that is ready for major minutes and physical play for Southern Cal next year.
In a new era of instant impact, all-conference like years from freshmen, Derozan will be one of the elite performers next year for Tim Floyd from the outset.
Derozan's performance almost never happened. He and his Compton teammates waited for over an hour to get the season starter because of a travel problem with the Knight team.
One of the potential highlights of the tournament would be a match-up between Derozan and his Compton team and Holiday and his Campbell Hall teammates in the tournament final. That game won't happen.
Despite Holiday's 39 points, Campbell Hall dropped its late game to JSerra 84-70. Junior
Demetrius Walker
paced JSerra with 35 points. The 6-foot-4 wing has enjoyed a great start to his season this year and has been impressive so far at the TOC. New Mexico State bound big man
Chris Gabriel
put in 21 points in the win.
Thompson does it all
Washington State bound
Klay Thompson
is a triple-double waiting to happen type of player and should be a tremendous addition for Tony Bennett over the next four years.
Thompson scored 20 points, handed out eight assists, grabbed six rebounds and had four steals in a 76-38 win for his Santa Margarita team over L.B. Cabrillo. The 6-foot-5 wing did just about everything, including his exceptional defense at three positions. He could have easily posted a triple double had he played the entire game. He had nine points, seven assists, five rebounds and two steals at the break.
Thompson is a cool customer on the floor, unselfish with the ball and smart in the half court. His recruitment gained steam in the fall and it was easy to see why schools from all over the country jumped in line to get his signature.
Teammate
Jesse Hazely
, a 6-foot-7 power forward, is a quality mid-level prospect from the class of 2009. He's a high-energy guy that powered his way to buckets and boards inside. Santa Barbara and San Diego are high on his list and as a top level student, the academic powers will be sniffing around, too. He scored 12 and collected nine rebounds in the blowout.
News & Notes
For the second day in a row, Ocean View High School sophomore
Anthony Brown
made a strong impression. The baby-faced wing scored 19 points in roughly 16 minutes of play.
The 6-foot-4 class of 2010 prospect his hit his first six shots, including a pair of three-pointers. Coming off the bench, Brown makes his presence felt right away on both ends of the floor. Because of his length, he causes a lot of havoc on the defensive end of the floor and forced a couple of turnovers which turned into points in the transition. He is a confident shooter and has the tools to be a high-major guy down the road.
Tennessee bound
Renaldo Woolridge
scored 20 points in a tight one against St. Mary's. The four-star forward helped push his Harvard-Westlake team over the hump with a 56-55 win.
Compton big man
Edgar Garibay
, one of the top unsigned centers left in the class of 2008, didn't suit up with his team for the season opener. He turned his right ankle in practice last week and sat out Tuesday's game. He said he could play later in the week.
All eyes on us
The number of coaches shrunk on Tuesday as Cal, Cal State Bakersfield, Loyola Marymount and UC-Irvine were at Ocean View High School.
Up next
3:00 p.m. – Killarney vs. Lakewood
4:15 p.m. – Knight vs. Valley Christian
5:30 p.m. – JW North vs. St. Mary's
7:00 p.m. – Compton vs. Bakersfield
8:15 p.m. – Pasadena vs. Santa Margarita
9:30 p.m. – Clovis West vs. Westchester