NYC five-star having big junior year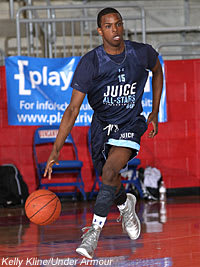 The latest in a long line of New Yorkers who had considerable publicity before they even started high school,
Isaiah Whitehead
has been having himself a big junior season.
A 6-foot-4 shooting guard at Brooklyn (N.Y.) Lincoln, Whitehead currently ranks No. 13 overall in the class of 2014 and has been putting up around 24 points, nine rebounds and six assists per night while leading his team to a strong season.
"It's going good, I averaged a triple double at one point," Whitehead told Rivals.com of his junior season. "We are the number one seed in the playoffs and out here looking to win states."
With his size, ability to create off the dribble and penchant for scoring from various levels on the offensive end, Whitehead has always been looked at as more of a scorer. When asked if that is a fair characterization Whitehead agrees to a certain extent and feels like he's improved in other areas.
"Maybe, but I think my passing is underrated," says Whitehead when asked if he's a scorer. "(I'm) Rebounding and become more of a vocal leader this year."
The five-star prospect's schedule has kept him from taking visits this winter but schools have been plenty active recruiting him. Whitehead noted
Syracuse
,
Louisville
,
Kentucky
,
UCLA
,
Florida
,
Miami
and St. John's as the programs most involved.
Whitehead also addressed constant rumors that Syracuse is his leader. Asked if the Orange are his leader, he stopped short of saying that but explained why many have put them out front.
"No, not exactly," said Whitehead when asked if Syracuse leads. "People say that because my favorite player is Melo and that's my dream school since I was little."
Whitehead has yet to put a timetable on his decision and is looking forward to a strong close to his junior season and a big summer. Continuity will be a key when he does end up making his decision.
"I'm looking for a home atmosphere where everybody is on the same page," said Whitehead. "A winning program, a great coach, great players aside me and of course the academics."
[rl]