NY2LA Sports Summer Jam: Carters charge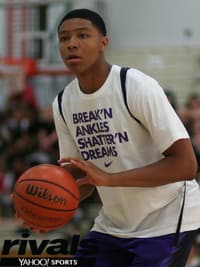 In the span of about 24 hours, the two-guard from Starkville, Miss., and MBA Hoops Elite posted 31, 20 and 32-point games, leading MBA to wins in each contest.
"I'm just having a really good summer," Carter said. "This summer's been my breakout. I haven't really been scoring like this before this summer."
So what changed?
"My mentality most of all," Carter said. "I'm knowing, 'This shot is going in.' And I've been working on my game and getting stronger."
Carter's a dead-eye shooter but a well-balanced scorer, too. He's smooth, athletic and crafty enough off the bounce to finish in traffic and play effectively off close-outs.
His size - he's grown to 6-foot-4, about five inches since he started high school - and length give him physical advantages over defenders and his basketball mind stands out, those around him say.
That might be a family thing.
His father, Greg Carter, is a former college player who's now his son's coach at Starkville High School.
Tyson Carter has that same option on the table, along with many others and more to come.
Mississippi State, Memphis, Miami, Iowa State, Florida Gulf Coast, South Alabama and Louisiana Tech have offered. UNLV joined them on Friday.
"They like the way I shoot the ball and that I can put the ball on the floor and make smart decisions," Carter said of college coaches. "I have a high basketball IQ and I can defend the ball."
During timeouts, the injured Chicago native took the court for light and brief shoot-around time.
Such moments underscored the difficulties he's encountered having to sit out, his reality ever since he suffered a severe compound fracture in his left leg and ankle in the spring.
"You never appreciate the game as much (when you're playing) than when you're sitting on the sideline," Eastern said. "I just have to take into consideration that everything happens for a reason and I have to just continue to develop myself in any way that I can."
It was the Lexington EYBL event at the end of April where Eastern jumped and came down wrong on another player's foot, dislocating his ankle and breaking both his tibia and fibula in one gruesome swoop.
"Of course any time there's an injury like that, you might think about never playing basketball again or not being the same if you do," Eastern says now. "But once I had surgery (May 4), I kind of cleared my head and thought positive and did everything I could to stay in the gym."
Today, Rivals.com's No. 41 player in 2017 sees the light at the end of the tunnel, he just can't run to it quite yet.
He has to remain patient.
He's due for re-evaluation Aug. 21, at which time he hopes to be cleared to run and jump again, which would be an important step toward his goal of being back on the court, playing again, by October.
"I'll be back as good as ever," he said.
Eastern said he's used his recovery time to watch film of himself from his sophomore season at Evanston High School and learn to "watch the game from a different perspective."
"It makes you really think about the game and become better mentally," Eastern said. "It makes you want to work harder and make everything about yourself better."
Eastern has been idled; recruiting has not. In fact, several of his offers have come post-injury.
"Coaches are still calling me and texting me, communicating with coaches and my mom," he said. "It's been a good ride even though I got hurt. I appreciate everything. I'm glad it is all still coming in and I'm going to keep preparing myself so I can come out of this better."
Watson said he may make his college decision as early as late July - there's only two more weeks of July, by the way - and if not then, then perhaps early August.
"I just want it out of the way," Watson said. "I just wanted to set a date to commit. But if I'm not ready then I won't do it."
The 6-6 wing from Pickerington Central in the Columbus, Ohio, area seems ready, which might be good news for a Big Ten school.
IU coach Tom Crean watched him Friday afternoon in Milwaukee.
"It was huge," Watson said of his Hoosier offer. "I was really excited."
Watson visited Bloomington in June.
"It's a great place, so rich with tradition and there's so much of a winning mentality there," Watson said. "I just think it would be a great place to play."
Watson also holds offers from Dayton, Massachusetts, Western Kentucky and a slew of Mid-American Conference teams and other mid-majors.
"I'm hearing the same things from them, that I'd be a great fit for them and they want to see me in attack mode always," Watson said. "They say they love my game and they love my versatility."
Michigan watched Watson closely at last week's Best of the South in Suwanee, Ga. Head coach John Beilein is supposed to watch him again Saturday, Watson said.
Beilein has spent a good amount of time in Milwaukee this week, but Watson didn't join All-Ohio Red until Friday due to a family matter.


"Coaches like my defense," John said. "They think I can guard 1 through 5 and they like my energy, that I rebound, that I have a motor, that I give 100 percent on the floor and am always talking.

"Those are my top (choices) probably," Santos said, "and I'm probably going to take visits to them after the July period."


The 6-9 front-liner from Findlay Prep in Las Vegas is a bit narrow, but he possesses nice height and length and was very active around the basket in a win over Who's Next Friday afternoon.

Its biggest piece, though, arrived for only the game's final minutes, when big man Carteare Gordon showed up. He'd been out East at the adidas Uprising event.

No. 47 in the 2016 Rivals150, Jackson said he'd like to narrow down his list in October.
"I'm open to all," he said, "East Coast to West Coast."
"I'm going to start cutting my list down here pretty soon," Bailey said.

Green Bay, Bradley and Loyola have offered, Patterson said.
The Kenwood Academy forward said he plans to take an unofficial visit to Illinois in August.