Nowell, others showout at Spiece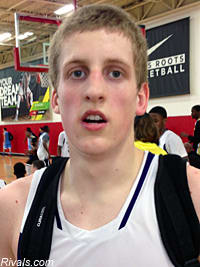 Chicago vs. Detroit, talent all over the floor and a strong crowd all led to a great atmosphere for grassroots hoops and the Fire and Family rewarded everybody with a great game. Led by Turner's game-high 31 points, the Family outlasted the Fire, 84-83, in an up and down and exciting affair.
"Right now, I'm a combo guard and I've got to be comfortable with that," Davis told Rivals.com. "My big thing is getting stronger and I've got to get more athletic so that I can do a better job of finishing over defenders."
Currently ranked No. 33 in the class of 2016, Bridges is a big time athlete who plays with toughness and has a strong frame. At around 6-foot-6, he is probably more of a natural power forward at this stage in his development and is happy to grind in the post, attack the glass and give a hard foul here and there. Bridges only finished with nine points, but his efforts on the glass were helpful in the win.
One of the toughest players we saw all day, Pritzl has game. He hit jumpers, he grabbed rebounds, he drove right and left for hoops and he always seemed to come up with a big play when his team needed it. Pritzl plays like a leader, carries himself with confidence and has some personality too.
"How many did I have?" Pritzl asked after the game. "41? I think that's only like the third time in my life I've scored over 40 points. The other two times I was in the seventh grade."
To his credit, Pritzl said that he isn't worried about who does or doesn't offer right now and that he's just trying to help his team win.
"I just try to do whatever I can to help us win," said Pritzl. "If I have to hit a three, hit a pull-up make a drive or get a rebound, I'm going to try and do it."
Extremely quick and aggressive, Nowell is a machine on the offensive end. He can shoot with range beyond the three point line, he is comfortable driving to his right or left, he loves to operate out of the high post and he can already drop home off (left) handed floaters like a vet.
Clearly, he has a bright future and earlier in the week he earned his first college offer.





[rl]