No surprises with Rivers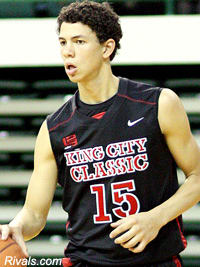 Although the timing was fluid, the expected did happen with the No. 1 ranked prospect in the Rivals150, as
Austin Rivers
made his commitment to the reigning national champions.
Duke has been the leader for Rivers since he decommitted from Florida, and Duke was able to hold off all challengers, including Kansas and North Carolina.
"What Austin really liked about Duke is the freedom that they give their guards," said Rivers' travel team coach Therion Joseph of Each 1 Teach 1. "They run a guard oriented offense, especially the last few years. They are the decision makers and drive the attack."
Rivers, a 6-foot-3, 175-pound combo guard out of Winter Park (Fla.) High School, is known for his high level scoring ability and overall feel for the game. Joseph is confident the rest of Rivers' game will round out at Duke.
"One thing Coach K will be able to do is coach Austin," said Joseph. "With his credentials he can challenge Austin to do things he can do but hasn't always done. Austin believes Coach K will be able to bring the best out of him."
With Rivers down to three great basketball programs in Duke, Kansas and North Carolina, the academic component also help keep Duke in front of the competition.
"Austin looked at where he would be in 40 years as much as where he would be in four years," Joseph said. "That's what really separated Duke.
"I told him it's like having the choice of a Mercedes, Lexus and Audi. All three are great cars. It's just a matter of what you want to drive, and he felt most comfortable with Duke."
Rivers joins a Duke recruiting class that is currently ranked No. 9 in the country. His commitment will likely catapult Duke into the No. 2 spot behind Kentucky.